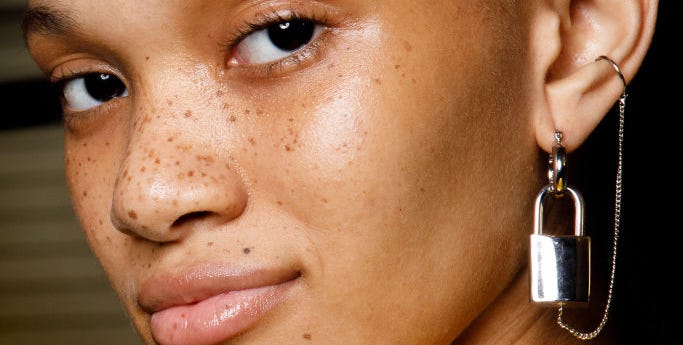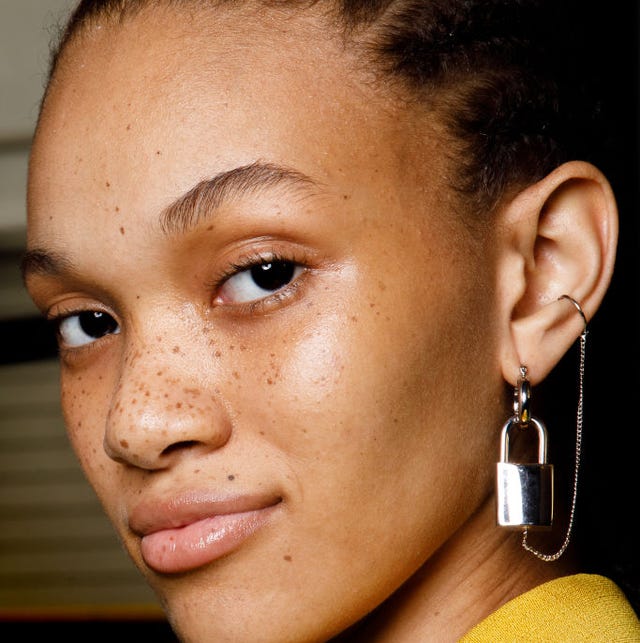 Rosdiana CiaravoloGetty Images
If you're looking to set some skincare affirmations for the New Year, repeat after me: I promise to wear sunscreen every. Single. Day. It doesn't matter where you live, your skin tone, or your skin-care preferences, if you don't wear SPF every day, you might as well throw the rest of your skin-care routine out the window. But I get it! So many sunscreens on the market are so hard to love. Chalky white casts, pore-clogging ingredients, and that awful chlorine smell are just some of the hurdles we have to overcome to protect our skin against UVA and UVB rays.
The good news is that it's possible to get that protection, without sacrificing a thing. Tinted SPFs are the wave of the future, replacing the creams that leave a gray or white residue behind. And unlike a foundation or concealer, you don't have to worry about buying the wrong shade. Many tinted sunscreens are so lightweight and blendable that all you'll notice is a glowing, flawless complexion. Whether you have sensitive, dry, oily skin, or are just SPF-averse, here you can find 12 of the best tinted SPFs that you'll actually want to wear every day.
Advertisement – Continue Reading Below
1
Best For Acne-Prone Skin
UV Elements Tinted Broad-Spectrum SPF 44
Skin that needs some soothing or a moisture boost will benefit from this mineral SPF that contains hydrating hyaluronic acid. The oil-free formula is also ideal for acne-prone skin, combining coverage with protection.
2
Best For Dry Skin
Mineral Tinted Broad-Spectrum Face Sunscreen
Chalky, unflattering SPFs are no more. This tint is infused with shea butter, coconut oil, and olive oil for ultra-hydrating wear. The tinted cream makes skin glowy and gorgeous, all while protecting the skin from harmful UVA and UVB rays with zinc oxide and titanium dioxide.
3
Best For A Matte Finish
Botanical Tinted Face Sunscreen SPF 50
Sunscreen shouldn't be goopy or pore-clogging. Formulated for sensitive skin, Australian Gold's SPF leaves out potentially irritating ingredients like dyes, oils, or parabens. The tint is sheer and blendable, so you'll look like you just applied a slight amount of makeup, when you really just went for a swim.
4
Best For A Lightweight Texture
Hydrating Mineral Sunscreen Broad-Spectrum SPF 30
While applying this sunscreen might feel like you're putting on a serum, it's actually providing you with long-term protection against sun damage which can prematurely age your skin. Plus, the formula contains nourishing ceramides to protect your skin's moisture barrier from drying out.  
5
Best For The Environment
Tinted Sunscreen SPF 30
Not only is this mineral SPF water-resistant for up to 80 minutes, but it also only uses non-nano zinc oxide. While zinc oxide is already safer for your skin and the environment, non-nano zinc oxide ensures that the particles of zinc do not disrupt coral reefs, since their larger size prevents absorption.
6
Best For Anti-Aging Benefits
RESIST Super-Light Daily Wrinkle Defense SPF 30
While any sunscreen already works miracles to prevent the onset of fine lines, wrinkles, and age spots, this SPF takes it one step further. Boosted with antioxidants to protect against free radical damage and anti-inflammatory extracts, this tinted SPF will make sure you continue to look youthful and plump, with an even complexion.
7
Best For A 2-in-1
Mineral SPF 30 Tinted Sunscreen Face Lotion
Makeup or sunscreen? Now you don't have to choose one or the other. This tinted SPF not only helps even out your skin tone, but also has a silky finish that makes it a perfect base for your other beauty products. Although, when your skin is protected and gorgeous, who needs foundation anyway?
8
Best For Clean Beauty Enthusiasts
Daily Hydrating Moisturizing Cream SPF 40
This sunscreen was developed specifically for people with darker skin tones who also have sensitive skin. Formulated without fragrance or parabens, this SPF is nourishing and invisible when massaged into the skin. There are also chamomile and green tea extracts to help sensitized skin feel nourished and calm again.
9
Best For Foundation Dupe
SheerFoam SunScreen Tinted SPF 30
This bouncy foam may lead you to never buy a bottle of foundation ever again. The pigments are just as effective at reducing the appearance of uneven complexions or unsightly marks, without sacrificing how well it protects. With physical UVA and UVB blockers, you'll be safe knowing that your makeup is working for you, not against you.
10
Best For Addressing Redness
Max Mineral Tinted Sunscreen Broad Spectrum SPF 45
Scars, acne, and sensitive skin can all cause unwanted redness to come for a visit on our faces. Not only does a great SPF help heal these marks, but the tint in this product also helps cover discoloration for immediate relief. The cream is lightweight enough to wear on a daily basis and an effective replacement for base makeup in your routine.
11
Best For A French Find
Anthelios Tinted Mineral Light Fluid Sunscreen SPF 50
People with sensitive skin know the struggle of finding an SPF that doesn't cause breakouts. This staple in French pharmacies has perfected its non-comedogenic formula. It's oil-free, dermatologist-tested, and allergy-tested. Plus, for anyone who prefers a classic SPF, the sunscreen also comes in a non-tinted version.
12
Best For A Glowy Finish
Physical Fusion UV Defense Sunscreem SPF 50
Universally flattering might sound too good to be true from sunscreen, but in this case it's accurate. Not only does the fluid protect the skin against sunbeams, but it also contains translucent color spheres that flatter all skin tones. Instead of a white cast, this product leaves the skin looking dewy and glowing.
This content is created and maintained by a third party, and imported onto this page to help users provide their email addresses. You may be able to find more information about this and similar content at piano.io
Advertisement – Continue Reading Below