Jon Frenkel Garcia is taking Hollywood by storm. The movie director's latest film "The Reflection Of Francisca Newman" is making a huge splash, with a recent screenings at the Silicon Beach Film Festival and the Burbank International Film Festival.  
Jon Frenkel Garcia is a writer and director that started his film career back in 2018, when he started studying Filmmaking at NYFA in New York. There he worked in multiple projects alternating different crew positions, among them, working as a Production Designer. Having written and directed over ten films ("Double Cream Coffee" and "Logastellus" amongst them), he decided to move to Los Angeles to finish his film studies and continue his Film career as a Director. 
During the COVID year, forced to move back home to Spain, didn't stop from being on set. For a timeframe of a year and a half, he worked in the Production Design team from the Spanish renowned tv show "Cardo".
Moving once again to the city of Los Angeles and finishing up, he went up to directing a few music videos such as his homage to Queen's song "Lazing On A Sunday Afternoon. After that, he resumed his two-year written idea to finally bring to light "The Reflection Of Francisca Newman". A dancing story, where he tries reflecting his most brutal honesty of what it feels to be an artist stuck in a creative block. A surreal journey that took Jon to the next step in his directing career, promoting his work publicly for the first time into multiple film festivals, including some such as Micheaux Film Festival and Burbank International Film Festival.
"The Reflection Of Francisca Newman" synopsis:
In this cinematic fairytale, Francisca Newman, a psychologically disturbed ballerina, fails at her life audition. Her perfectionism starts to take a noticeable toll on her mental health, where in a world of passion and beauty, sensibility and enlightenment becomes darkness.
In this increasingly violent and surreal competition at the hands of her own reflection, a familiar voice starts talking to her as an old forgotten friend. A voice that takes her on a journey through her own memories in order to find herself, before her reflection becomes a stranger.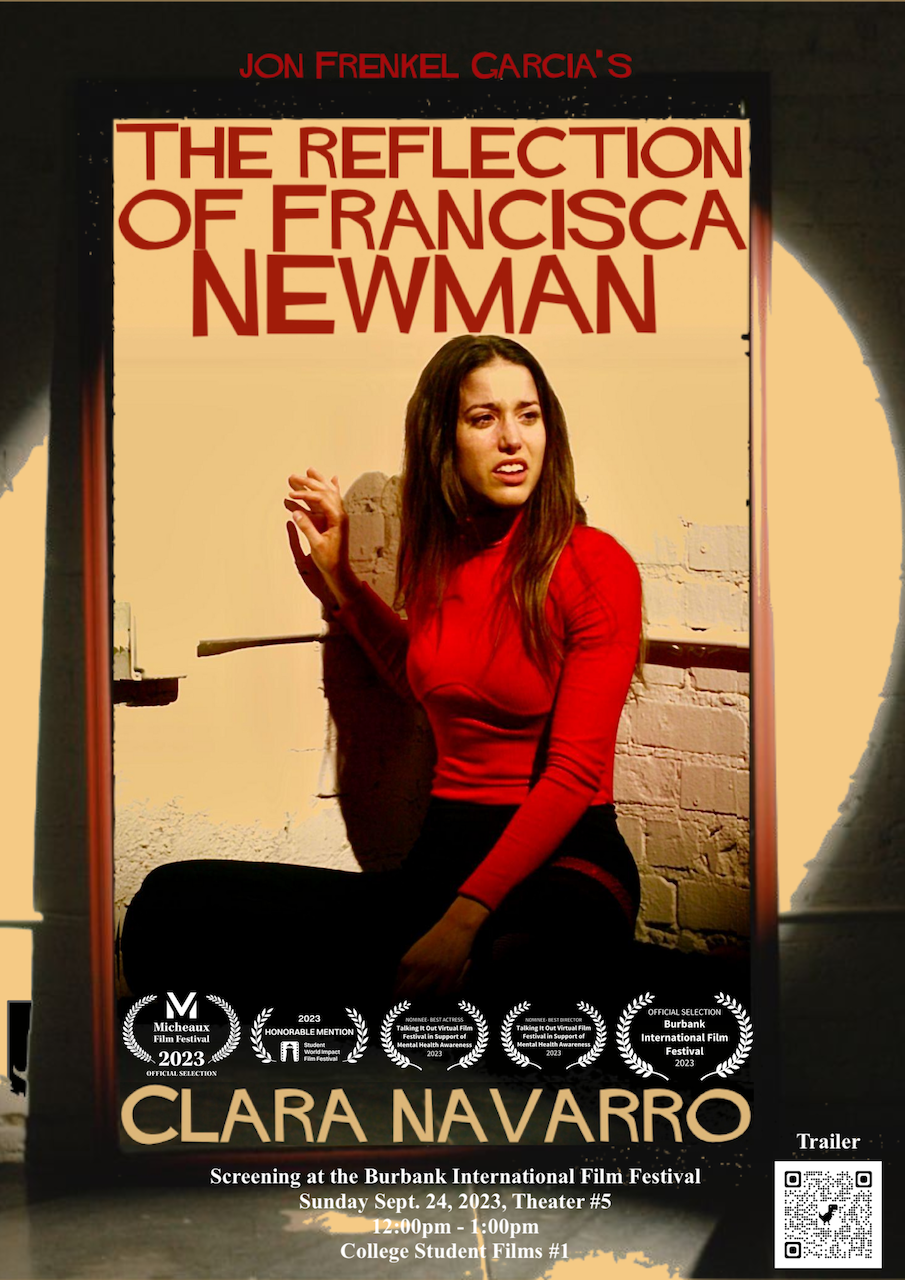 Jon Frenkel Garcia's Director's Statement:
In this dancing-story, for the first time, I try reflecting my most brutal honesty of what it feels like to be an artist stuck in this never-ending creative block that physically and psychologically locks you up in your own cage. There is always a way out if you're able to listen to yourself, sometimes we just need a healthy reminder of how fortunate we are and how far we got by ourselves. I believe honest art comes from loving one-self and that has been my personal journey with "The Reflection Of Francisca Newman".
Watch the trailer for "The Reflection Of Francisca Newman" here:
Follow Jon Frenkel Garcia on the IG @jonthology