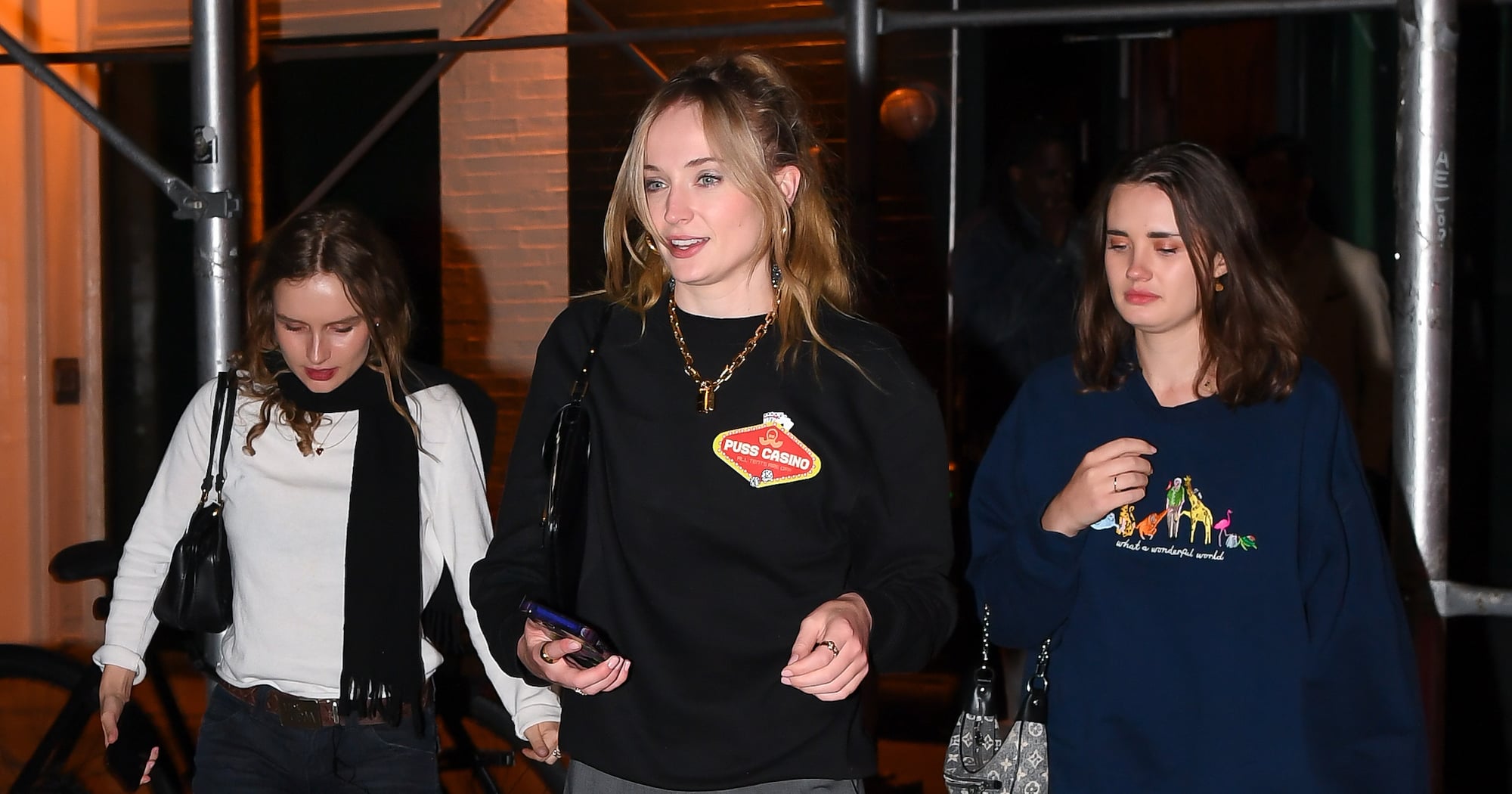 PSA: TikTok merch is now acceptable attire for dinner with Taylor Swift. On Sept. 19, Swift and Sophie Turner made headlines for their spontaneous New York City dinner date, linking arms while walking out of Via Carota following the news of Turner's split from Joe Jonas. Although the two initially sparked interest for the timeliness of their meeting, our eyes were glued to the actor's unique sweatshirt instead.
The design seemed inconspicuous at first, the black sleeves wrapped tightly around her waist to hide any discerning details. Thankfully, as the city temperatures dropped, Turner layered the sweatshirt over her sparkly silver halter top, revealing it to be TikTok merch from content creator Jake Shane (aka octopusslover8). She styled the sweater with baggy gray trousers, light-blue sneakers, and a gold chain necklace.
Shane is a 23-year-old comedian previously linked to celebrities like the Jonas Brothers, Sofia Richie, and fellow TikTok star Alix Earle. He built a following thanks to his imaginative retelling of historical events and "p*ssy PSAs" containing hilariously candid updates. "The way I'm shaking because Sophie Turner is fully wearing 'puss casino' in that," Shane said in a Sept. 20 TikTok, pointing to Turner's crewneck. The "puss casino" graphic (although predictably sold out) features a winning slot machine illustration with the words "Jackpuss!" written in red across the top and "good p*ssies go to heaven, bad p*ssies go to Vegas" along the back.
Without reading too much into Turner's merch, she and Jonas did have a Las Vegas wedding in 2019, and the Jonas Brothers formerly collaborated on a handful of videos with Shane back in April. At the very least, Turner's unpretentious cover-up points to her apparent closeness with Swift, who also dated Jonas circa 2008. While Swift was not spotted rocking any merch of her own, we already know she found the humor in the outfit. See Turner fully embracing her TikTok era below.