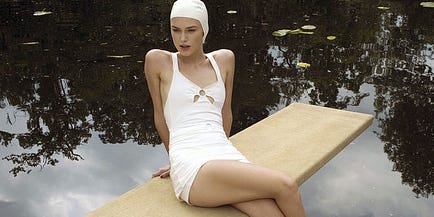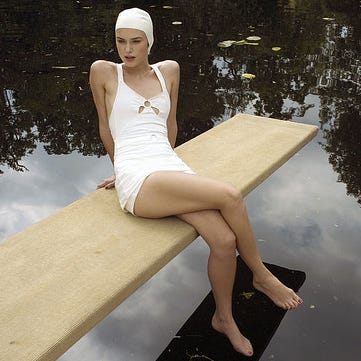 Universal Pictures International (UPI)/Focus Features
Some of these scenes are Oscar-worthy; others may not even come close, but they all have one thing in common: The looks that appeared in them have become legendary. From beaches to pools and everywhere in-between, actresses of past and present have rocked memorable suits that are now part of movie history for a reason. Sit back, relax, and prepare yourself for some major inspo for summer.
1 of 40
Marilyn Monroe
You can't talk best swimsuit moments and not kick it off with Marilyn Monroe. Her coral look in 1953's How to Marry a Millionaire completely stole the show.
2 of 40
Deborah Kerr
Deborah Kerr's halter top swimsuit in 1953's From Here to Eternity was quite the smoldering look for the time.
3 of 40
Jane Russell
Talk about Old Hollywood glitz and glam. Jane Russell shined in this sparkling, cut-out one-piece in 1953's The French Line. Please note the matching gloves.
4 of 40
Sandra Dee
Four decades prior to Kate Bosworth in Blue Crush, Sandra Dee proved that surfer girls can make a big splash in 1959's Gidget.
5 of 40
Elizabeth Taylor
In the 1959 film version of Tennessee Williams' Suddenly Last Summer, Elizabeth Taylor stuns in this white one-piece that still endures to this day.
6 of 40
Paula Prentiss
Paula Prentiss, a very young George Hamilton, and Paula's chic one-piece made Fort Lauderdale every bit the hot spot in 1960's Where the Boys Are.
7 of 40
Joan Blackman
Legendary Hollywood costume designer, Edith Head, must have known women would have trouble taking their eyes off of Elvis in 1961's Blue Hawaii. The solution? A yellow, formfitting two-piece on costar Joan Blackman.
8 of 40
Sophia Loren
Simple yet chic is how we'd describe Sophia Loren in 1961's Madame Sans Gêne. Her plain black swimsuit and brim hat is an unbeatable combination.
9 of 40
Brigitte Bardot
Brigitte Bardot is often credited with popularizing the bikini. This white underwire top and ruffled bottom from Louis Malle's 1962 film, A Very Private Affair, is particularly iconic.
10 of 40
Sue Lyon
Sue Lyon created film history in 1962's Lolita with this tropical print hipster bikini, wide-brimmed hat, and cat-eye sunglasses.
11 of 40
Ursula Andress
When this bikini from 1962's Dr. No rose out of the Caribbean waters, dangerously hugging every curve of actress Ursula Andress, it gave birth to her character Honey Ryder and the lasting phenomenon of the Bond girl.
12 of 40
Annette Funicello
Famous Mouseketeer Annette Funicello's high-waisted bikini in 1965's Beach Blanket Bingo made us all want to join in the fun.
13 of 40
Sharon Tate
Sharon Tate brought all the late '60s fashion vibes in 1967's Don't Make Waves, wearing a green bikini top and matching bangles.
14 of 40
Trina Parks
Trina Parks wowed audiences in 1971's Diamonds Are Forever with this two-piece. Her matching accessories—including a choker, hoop earrings, and an arm band—only added to the look.
15 of 40
Pam Grier
Pair a little macramé with a lot of style and you have Pam Grier, in her first leading role in 1973's Coffy.
16 of 40
Carrie Fisher
Nobody could have played the role of Princess Leia better than Carrie Fisher, who stunned in 1977's Star Wars in this legendary copper bikini.
17 of 40
Bo Derek
Bo Derek's beyond basic nude one-piece in 1979's 10 proved sometimes it's the simpler things in life that make the biggest waves.
18 of 40
Farrah Fawcett
In 1979, Farrah Fawcett rocked this zip-up one-piece in Sunburn and proved, once again, why she was one of the most iconic celebrities of the era.
19 of 40
Brooke Shields
Leave it to Brooke Shields, who accepted the memorable female lead role in 1980's Blue Lagoon, to cover up in a way that leaves more to the imagination.
20 of 40
Phoebe Cates
Phoebe Cates' itsy-bitsy red bikini was the stuff that fantasies were made of in 1982's Fast Times at Ridgemont High.
21 of 40
​Salma Hayek
Just five years before Britney Spears' iconic snake performance, Salma Hayek wore a similar look in 1996's From Dusk to Dawn.

WATCH NOW
22 of 40
Angela Bassett
Spoiler alert: This scene gives away How Stella Got Her Groove Back in 1998—in a hot pink bikini top and skirt.
23 of 40
Tara Reid
Tara Reid looked summer-ready in 1998's The Big Lebowski, with this lime green bikini and scrunchie.

WATCH NOW

24 of 40
Gwyneth Paltrow
The nautical print. The red detailing. The retro silhouette. All of the above made Gwyneth Paltrow's bikini in 1999's The Talented Mr. Ripley one of the many enviable wardrobe items Oscar-winning costume designers Gary Jones and Ann Roth created for the movie.
25 of 40
Elizabeth Hurley
While playing the Devil, Elizabeth Hurley was red hot in this glittery bikini in 2000's Bedazzled.
26 of 40
Virginie Ledoyen
Gorgeous location? Check. Long brunette hair? Check. Stunning blue bikini? Check. No wonder this scene featuring Virginie Ledoyen from 2000's The Beach is unforgettable.
27 of 40
Maribel Verdú
The 2001 steamy road trip tale, Y Tu Mamá También, concludes with Maribel Verdú in the perfect string bikini and coverup strolling along an isolated beach.
28 of 40
Reese Witherspoon
In 2001's Legally Blonde, Reese Witherspoon showed off Elle Woods' brains and beauty in this sparkly green bikini.
29 of 40
Angelina Jolie
Not all bikinis are created alike, as Angelina Jolie proved in 2001's Lara Croft: Tomb Raider. This poised-for-action black two-piece was perfect in its simplicity.
30 of 40
Halle Berry
The best homage to Ursula Andress' Dr. No swimsuit is this tangerine bikini from Eres. Halle Berry wore the unforgettable look as a modern-day Bond girl in 2002's Die Another Day.
Advertisement – Continue Reading Below
Janaya Wecker Lifestyle Editor Janaya is a Lifestyle Editor for Hearst Magazines.
This content is created and maintained by a third party, and imported onto this page to help users provide their email addresses. You may be able to find more information about this and similar content at piano.io