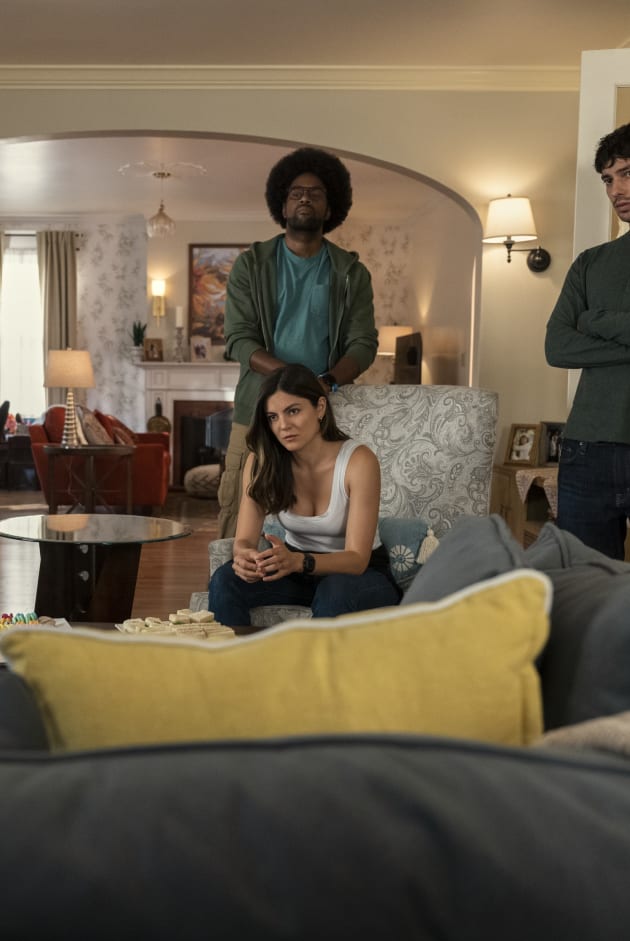 Talk about a total charmer. Milan Carter is that and then some.
A jack of all trades, Carter is bursting onto the scene in the highly-anticipated Netflix action-comedy series FUBAR as a spy with a heart of gold and a bevy of one-liners to boot.
Carter shines in the fun, ambitious FUBAR, a globe-trotting affair that mixes humor and family feels into one oversized action-packed adventure.
It was a pleasure to speak with the lively and charismatic Carter, a Philly native like my family (Philly love, always) who was sincere and forthcoming in his answers to various questions and topics. And had me laughing like crazy.
From how he landed his role in FUBAR to some fond memories from filming and what it's like acting with legendary Arnold Schwarzenegger, Carter was a treat, so grab a snack and dig into this wonderful conversation.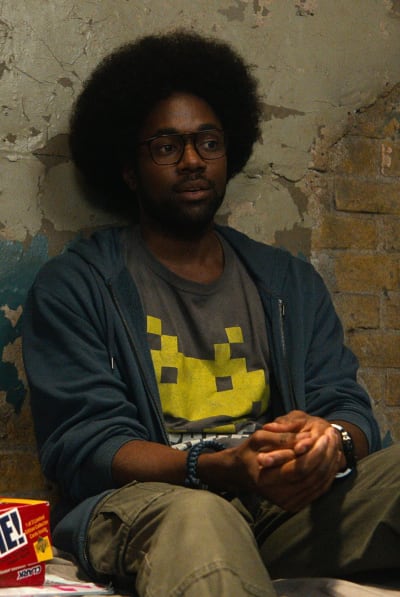 I got a chance to check out FUBAR and enjoyed it. What impressed me the most is that it's action-based, and there are a lot of action scenes, but it's also really heartwarming and funny.
Could you tell us about FUBAR and your character, Barry?
So FUBAR is a very relatable show. It's an action comedy that I think most people can relate to because, at the core of it all, it's about family.
We've all had family members that we disagree with, don't get along with, or don't fully understand, so it's super cool that the show's backdrop is they have to save the world, but a father and daughter find out that they've been lying to each other for years, and they're both in the CIA.
So how do you rectify your relationship with your family, but at the same time try to save the world? And it's so much catastrophe that goes on inside of that.
My character plays a pivotal role because he is the only one who knew the secret this whole time. So now I'm caught in the middle because it's my niece and my best friend, and now I've known this secret, and they both look at me.
But meanwhile, I'm the guy in the chair trying to give them all the technical analysis, but they're both mad at me in different places in the world.
Yeah. And I enjoyed Barry, Uncle Barry. I liked it when they called him Uncle Barry.
Thank you.
He is just this lovable guy who seems to have a really big heart. What was it about Barry that attracted you to the role?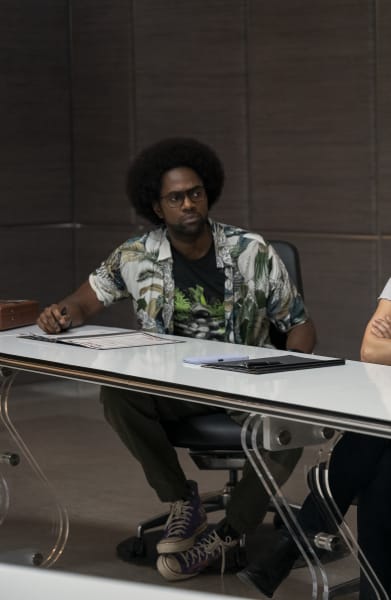 Oh, man. One is, I feel like people like me, I'm from West Philly, I'm from the hood, and I beat a lot of statistics, and I feel like it's really that a black guy from the hood gets a chance to be the guy that's in charge of technical analysis, or as you say, the guy who cares, in the CIA.
So it was such an awesome opportunity to do that but also still stay true to my roots and understand what it's like to not have family. Because when I moved to LA, I moved there by myself, and Kevin Frazier from Entertainment Tonight took me under his wing, and now he's like my adopted father in LA.
I had a lot of trouble with my upbringing with my family, where I got kicked out at gunpoint when I was 16, and I had to figure things out. So to have a role where Barry gets mentored by someone, by Luke Brunner, who Arnold plays, was such a close-to-home story.
And once I saw that I was like, "I got to have this. I got to do this." Because I am a nerd, I am someone that people don't expect, and I love to have a good time. And it's a comedy. Come on now, how can you beat that?
What was the audition process like for FUBAR?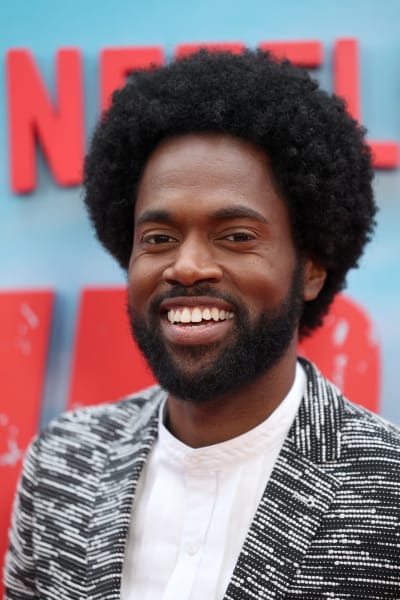 My first audition, this is where it gets crazy. My first audition was in January. I wanted the role so bad, so I coached with any and everybody that could actually speak. If you were a two-year-old or an 85-year-old, I wanted to run my lines with you because I wanted this role so bad.
I must have taped my audition no less than 50 times, and then I sent in two takes from each scene. So I had two scenes. One of these takes has to be the guy. Send it off. I try to let it go, which is always hard. It's like, "Oh my goodness, Arnold Schwarzenegger's straight to series. And one thing about me is I did several pilots in the past few years.
I would book a pilot, and the show just wouldn't get picked up. This was straight to series, so I was excited about that. I really want something that the world finally gets to see.
A month goes by, and I hear nothing. It's crickets. And then I was like, "You know what? Maybe it's time for a change. I got this Afro. Pilot season is coming up. Maybe I should change up my look and try to be something that can fit more white collar."
Because with an Afro, with the beard, chances are I won't be in law enforcement. I'm not going to be a doctor. I'm not going to be a lawyer. So, either you're a hippie, a drug dealer, or someone who loves the moon and the stars. So, I was like, "Let me change my look."
The day after I cut my hair, which is Super Bowl Sunday, my manager says, "Hey. Remember that Arnold project you auditioned for ages ago? They want to meet you today." I was like, "Super Bowl Sunday today?" And she said, "Yes, standby for more information."
And I'm like, "Oh my goodness. Thank you for calling me at 10 in the morning because I was about to get turnt up with my friends." Because, of course, the Eagles are in the Super Bowl and stuff.
Basically, they said, "Hey, we have Super Bowl remorse," and pushed back the audition. So now, another two weeks go by before I finally meet with the producers, and I meet with Nick Santora, a wonderful man. He chats with me for an hour and tells me about the audition and what they're expecting, and then we get on Zoom and knock out the audition.
And at the end, he looks at me and says, "Did you cut your hair?" And I was like, "Ah, yeah. See, what had happened was I went to the barber to get his shape up, and he messed up. So here we are now, Milan, with no hair. I hope it works." And you could see the panic in his face. But I was like, I still did a good audition.
Another two weeks go by. It was like I got ghosted. I was like, "Oh my goodness, what is this?" And in the same process, the one thing I'm leaving out is my wife is nine months pregnant.
Oh my gosh.
So people say, "Have a babymoon," and they're like, "Have a babymoon." So I was like, "All right, babe. Our baby's due in about a week. I did this producer session and heard nothing back. I mean, I did this producer session, and it was great. I think we're going to book it, so let's go celebrate this babymoon and go have a great time."
And we go out and have dinner. We get back. It was a great night.
We wake up the next morning to a text from her father, and her father says, "Hey, when you get up, I need both of y'all to call me." And I was like, "All right." We call him and find out that her brother is in a coma in Alabama. So we have to jump on a flight. She's nine months pregnant. We call her midwife.
We're like, "Yo, is it okay for us to fly? Ashley's due in about ten days or so. Is it okay for us to fly?" And they said, "Yes, but if the baby is born in Alabama, you will probably have to stay there for a month or so." I'm like, "All right. We're going to go on Saturday, and we have to return no later than Wednesday," because our baby is due the following Saturday.
So we go down to Alabama, and now I'm like, "I know I killed this audition. I know I'm about to book this thing," and it's crickets, hear nothing. But at the same time, it's like, "Can I even celebrate if I get this role because my brother's in a coma right now?"
So it was Wednesday that we already decided to fly back, and that was the same day that they said he wasn't going to make it. It was fentanyl, or he had something that was laced with fentanyl, and that's what did it.
So we get back and still hear nothing. Then my son is born, and my son is born on Saturday, and then I get a message, "Hey, are you available this Thursday or Friday to do a chemistry read with Arnold?"
And I was like, "Okay, yeah. I'll figure it out," newborn baby in my arm. And literally, go to my garage, set up my studio, and do my chemistry read with my son being, what, five days old, and rock it out with Arnold on the Zoom, and I thought I killed it.
Then, all of a sudden, Lulu, his donkey, starts galloping across the screen, and everybody's enamored by Lulu. I was like, "Well, I guess my accent wasn't that interesting. So here we go, another loss."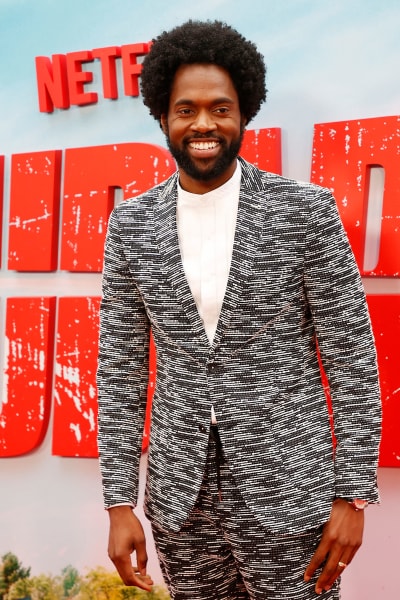 But lo and behold, Lulu only comes out for the good people, I guess, because they liked me already, and I didn't know that, and I wound up booking it, and they hit me back, what, a few days later. And then they said, "Hey, can you move to Toronto in two weeks?" So we took a newborn baby, moved to Toronto, and were up there filming for six months.
Wow. Well, I'm so sorry for your loss. That sounds like a whirlwind time for you.
Oh goodness. It was so many emotions, and that's why I was like, it took me a while to even fully enjoy the fruits of my labor because you work so hard as an actor, and a lot of times, people only see what comes to life.
So FUBAR's about to come out, and it's like, "Oh, this guy just made it." But no, I've been grinding for 10-plus years. I moved to LA in 2009, so now I finally have something people will see, but it looks like I'm an overnight success. But all those times, things of that nature, that all happened, so it took a while for me to actually be like, "Yo, I did it."
Yeah, you did.
That thing that little Milan dreamed of, we made it, we're on the screen, we did this thing and a project that I'm proud of, and it talks about something so special to me, which is family. Nothing is more important to you than family.
You put a lot of work in.
You brought up Arnold, and obviously, Arnold Schwarzenegger is a massive movie star, a household name. What was it like acting opposite him?
Oh my goodness. Acting opposite Arnold is a trip. You see the bodybuilder, the strong guy, the Governor, the Terminator, but he is possibly one of the nicest humans I have ever met.
From day one, walking onto the set, Arnold pulled me to the side and said, "Yo, you are hilarious. It took me a lot to keep my stuff together when I was auditioning with you and then watching your tapes. I just want to let you know, I think you're really talented." He didn't have to do that.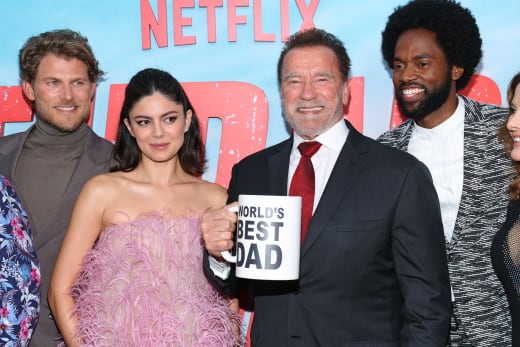 And it's just like, you've been in the game for so long, and for you to pour into me on day one to let me know I belonged there. Because I don't know if he knew how long the audition process was, the ups and downs.
Sometimes it gets to you as an actor, and you get in your head a little bit, but Arnold confirmed me, he affirmed me that day one, it was like, "Yo, we're going to have fun." And it all starts at the top.
Every day, Arnold would come in cracking jokes, quoting his old movies, and he let everybody know, "We here to have fun. It's not going to be a stressful work environment, and it's just like, it's going to shine through our chemistry. If we have fun here, America, the world, when they watch this, they are going to realize these people really enjoy each other and really had a great time filming this."
Which comes across on screen. There's a great camaraderie between the different characters.
Oh, thanks.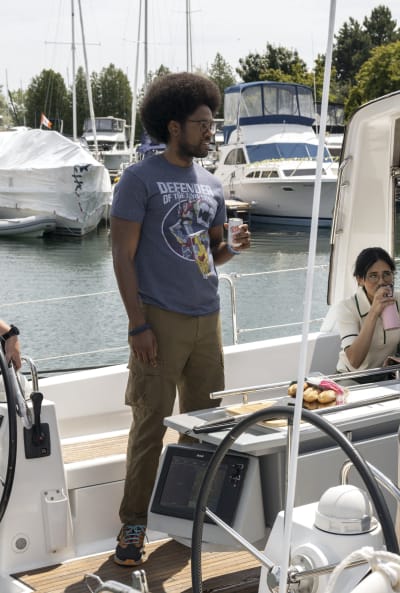 Did you learn anything about yourself while diving into this role, even just through that audition process?
Resiliency. I learned just what I'm willing to do for my loved ones because it's so interesting how Barry's life kind of mirrored my own life. You go through certain things, and when you see that someone you love is in danger or you see that someone you love is hurting.
You know you have the ability to save them, but you have to put your own life, your own livelihood, at risk to do that. I realize that I'm always going to say yes. That I'll sacrifice myself in a heartbeat to save someone I love.
That's really nice.
Barry is behind the scenes, but he still gets out there in the field, too. Did you get to do some stunts and everything? What was that like, the action parts of the series?
The action parts were silly. And because of our shooting schedule and different technicalities, sometimes you have to get thrown into something without warning. And I feel like they changed the shooting schedule, and there's a clip of me in episode two where I'm hanging from a helicopter.
I had to shoot that scene, it felt like it was on a whim, and I was about 50 feet suspended in the air with about five fans blowing wind, which felt like I was in a hurricane, and I had to be able to do my lines and shoot a gun all suspended in the air, and that was intense. And everyone's like, "You're not afraid of heights?"
And I was like, "Well, I don't think I have time to be afraid of heights right now. I have to do my lines. I have to do the thing and just use it to fuel me." And I think it was great.
And it was also funny because I feel like everyone else had thorough weapons training. I had five minutes of weapons training. They were like, "We don't want you to be good with this." I was like, "Come on, man. Give me the real stuff."
So a lot of times, all my training would take place literally right before my scene, and I guess it made it come across as Barry is inept when it comes to weaponry and all the stunts, but Barry always gives his all.
How was the filming experience? Did you guys film overseas, on location, at these different spots?
So, they did a lot of on-location stuff before we got there. I know they went over to Europe and did a lot of the opening stuff, but most of our shots took place all over Toronto in that area.
Toronto has a lot of different set pieces and abandoned towns and stuff like that, warehouses that we all shot at. So yeah, we went to Toronto and were locked into Toronto from April to September.
Do you have any fond memories from filming the series? Something that sticks out?
One thing is, between Monica and Fortune, we always had dance parties. There were times where me and Monica went to a block party, we were dancing in the street for hours, and circles were forming around us, and that's all we did.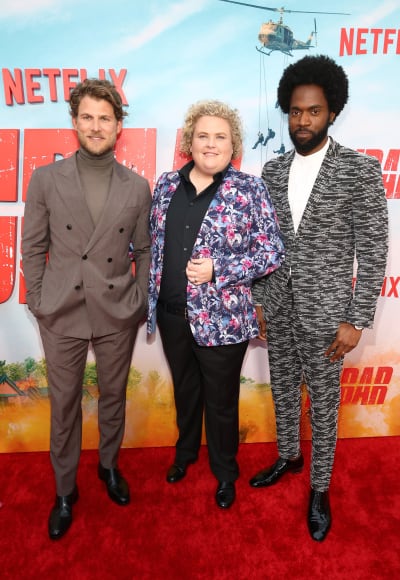 We just danced and two-stepped, and I would bring music to set all the time, and I had my little speaker on my hip, and I would play jams. And then, you'd catch Fortune over there doing her little twerk, her little ins and outs, and stuff like that. Dance parties probably are the main thing that stick out to me.
And games, I can't forget that. I bring a game bag everywhere I go. So I always had my game bag and playing taboo. And one thing I realized is that my castmates, especially Monica and Travis, are the most competitive humans in the world. And so, it's just like everybody will be arguing, shouting, yelling, but it was all in good faith, and we all just wanted to win.
And then also, chess with Arnold, I forgot about that. Playing chess with Arnold, because that's all Arnold talked about is how good he is in chess and him and his boys always playing chess, and I kept asking Arnold to play me in chess, and he kept putting it off, saying, "Yeah, we'll play, we'll play."
But I realized he didn't want to play me in public, so I burst into his trailer one day and said, "Arnold, we going to play chess right here, right now." He said, "All right, let's get it." I whooped Arnold's butt so bad. And so, I guess we have that right there is a penultimate thing.
Then, Arnold told everyone how great I was in chess, even to the point where we went to Oktoberfest in Munich, Germany. He was speaking at Bits & Pretzels, which is an environmentalist conference, and he even told them how great I am at chess. So the fact that Arnold told everybody how great I am at chess, hey, that's a win for me.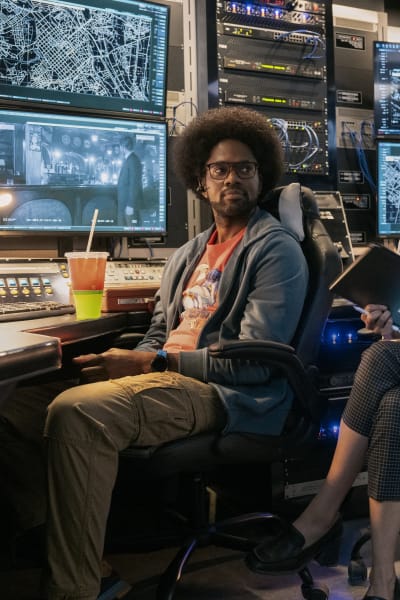 Right? That's pretty cool.
Absolutely.
You talked about this earlier. I like that you mentioned the family aspect of the series because when I was watching it, I was like, "Okay, this is laugh-out-loud funny, it's an adventure, it's spies, it's deception, it's all these different things, but at its core, it's really about family and relationships."
So what are you hoping that the audience takes away from the series?
What I hope the audience takes away from this series is that family, one, is what you make it, and family is also a currency that can't be bought. It's priceless. So it's so important for us to cherish those people around us and enjoy the times we have because tomorrow isn't promised, and have a great time doing it, right?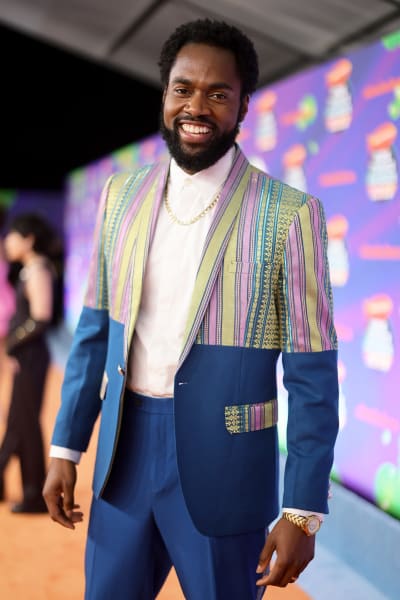 Life is too short to argue. It's too short to be mad and upset. And it's just like, all the arguments you may have now are the things you're going to laugh about later, and arguments only make us stronger.
So I think when people watch FUBAR, they're going to see a family figuring it out and realizing that they're just a small scope in the mainstream of the whole world, and we all have to work together for our happiness. I think that makes sense.
Yeah, that makes perfect sense. You summed it up nicely.
What shows are you currently enjoying, and what's your all-time favorite comfort show?
Let's see. Shows currently enjoying, Beef. I just finished Beef on Netflix. It was definitely different for me, and I'm not a huge dark comedy fan. What else am I watching? Ooh, TV Fanatic. What else did I just finish? I watch a lot of anime.
I watch One Piece all the time. I'm up-to-date, so I'm on episode 1056 or something.
Oh, that's such a great question. I wasn't prepared for this. I got to pull up my Netflix. What does Netflix say I was just watching. Let's see.
All time favorite comfort show would have to be The Office. The Office is a show I can always go to and get a laugh, whether it's Dwight or Michael just being Michael, and Steve Carell is a comedy legend, so I could never go wrong watching Steve Carell do anything.
I just finished watching Beef, One Piece, and then also Ozark, which just went off, which is upsetting. But Ozark is definitely a wonderful smash hit as well.
Yeah, those are all great shows.
Thanks.
I like that question because I like to know what else people are interested in and what kind of TV is out there, but sometimes people are like, "Oh my God," it's like you forget everything you've ever watched when somebody asks you.
Right? Exactly. Because it's almost like, "Oh, so many things. There are so many things." Oh, oh, also, Alice in Borderland. Oh, my goodness. Have you seen that?
I have not, but I've heard of it. Yeah.
Have you seen Squid Games?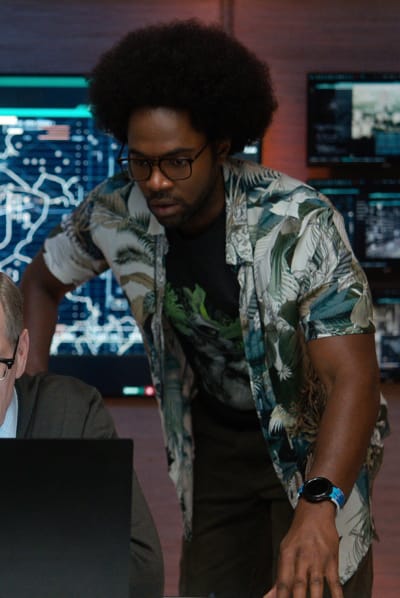 I didn't watch Squid Games, no.
Okay. If you're not a fan of Squid Games, you probably wouldn't like Alice Borderland. It's crazy. Basically, they're stuck inside a game they didn't choose to play, whereas, in Squid Games, they signed up for the game, whereas in Alice in Borderland, all of a sudden, they're there, and you got to figure out this life or death game.
That sounds intense.
I love games. Yeah.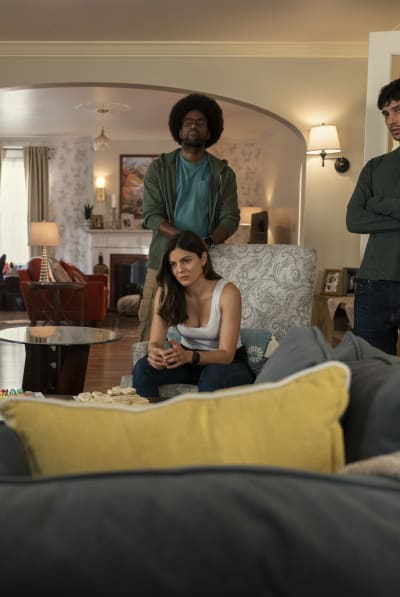 Sounds awesome. Well, thank you so much for your time today. It was a pleasure getting a chance to talk to you. I'm excited about FUBAR. Audiences are going to connect with it, and Barry's a great character, so wishing you a lot of success with the series when it comes out at the end of the month.
All right, thank you so much, Philly love. I appreciate it.
***This interview has been edited for length and clarity.***
You can watch FUBAR on Netflix.
Whitney Evans is a staff writer for TV Fanatic. Follow her on Twitter.