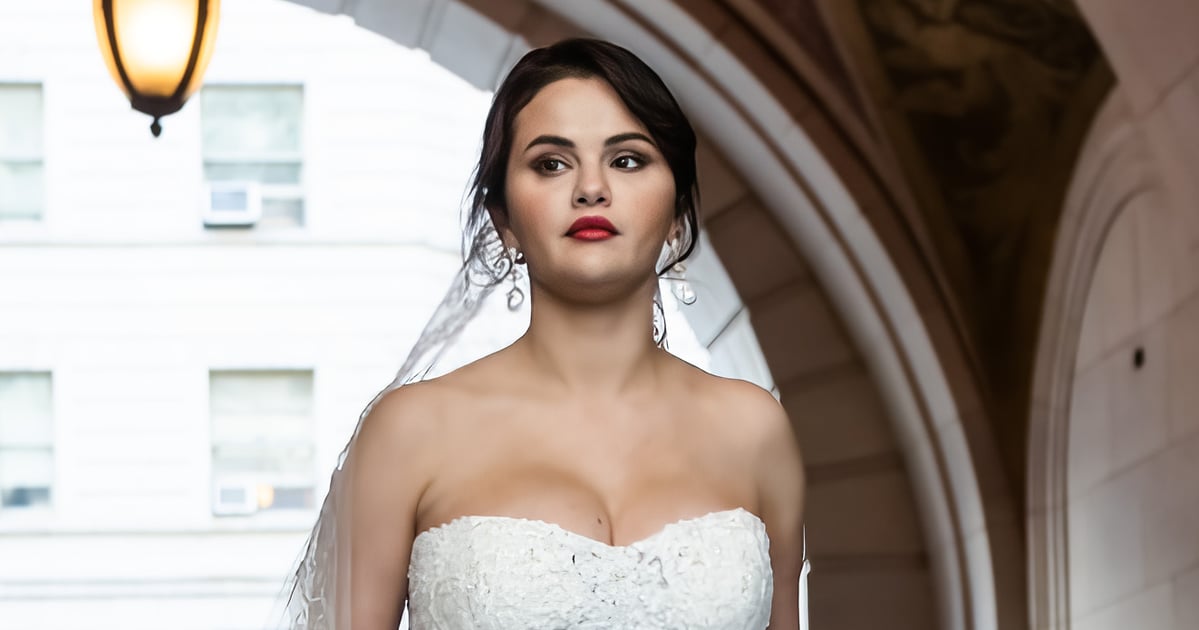 Hold up, is Mabel Mora getting married? It's the question on everyone's mind after Selena Gomez was spotted in a wedding dress while filming "Only Murders in the Building" on March 21. Gomez looked straight out of a fairytale in the strapless gown featuring a sweetheart neckline, embellished lace appliqué trailing down from the bust, and a full tulle skirt. The dress is a best-selling design from David's Bridal that retails at $999 and comes in several different colors options, including champagne, solid white, and all black.
The classic gown is a rather surprising choice for Mabel, but she gives it her own spin by adding the white chunky-soled Dr. Martens Sinclair boots she's worn in earlier seasons. The finishing touches? A matching lace veil, white bow-adorned gloves, pearl drop earrings, and red lipstick.
In paparazzi photos captured on set, Gomez is seen outside the Upper West Side apartment used to portray the Arconia. Costars Steve Martin and Martin Short are in tow wearing their own wedding-ready attire — a tuxedo for Martin and a suit and red scarf for Short — and appear to be ushering Gomez into a cab. All three actors shared behind-the-scenes photos from the widely publicized day of filming. "I have no caption. Just a regular day at work," Gomez captioned Instagram pictures of her sitting in Mabel's white dress, while both Short and Martin posted snaps with her on Twitter.
The footage has fans theorizing about what "Only Murders in the Building" season three has in store. Perhaps Mabel ties the knot with cast newcomer Jesse Williams's character? Or maybe the wedding dress is part of an elaborate ruse to catch their latest murder suspect? Knowing the twisty-turny Hulu series, we think the latter is more likely, but we'll have to wait until season three returns to find out. In the meantime, we'll be swooning over these sneak peeks at Gomez in full bridal mode.