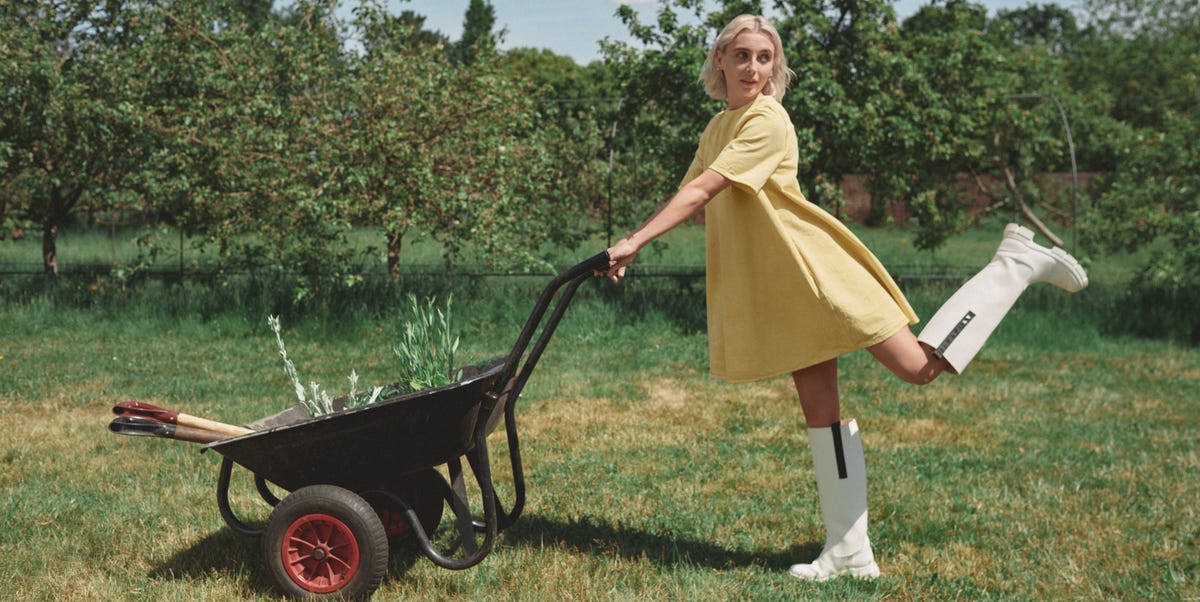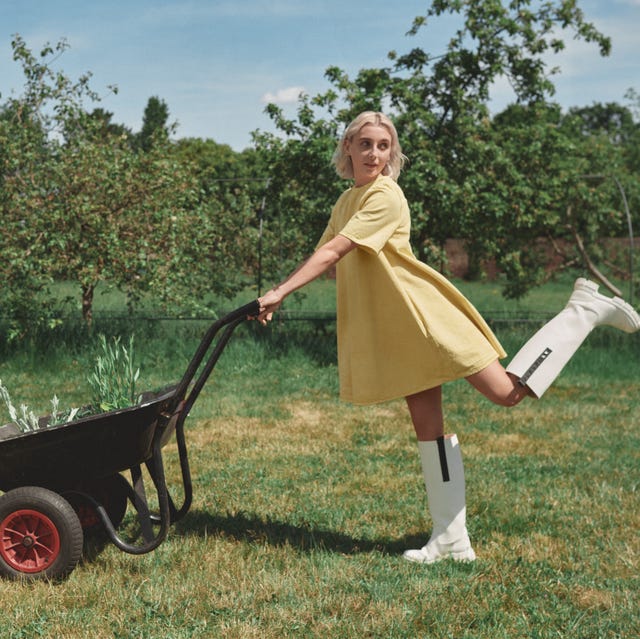 Courtesy of Ganni
August is a time for recharging, resting, and enjoying the last shred of summer while we've still got it. The confidence of Leo season has us excited for nights out on the town—and a bevy of fashion launches that will tide you over the languorous, every-day-feels-like-Sunday month. We're starting out super hype-y with Ganni's latest collab with Levi's, Nordstrom's new collection made in partnership with Virgil Abloh Securities, Zara Atelier's fresh range of dresses, and much more. Keep your eye on this space as we cover the news you need throughout the month.
Advertisement – Continue Reading Below
1 Ganni and Levi's Collaborate Again on 'Grow Up' Collection
Who: Ganni and Levi's
What: Collaborative collection
Where: Available online at ganni.com, in select retailers worldwide, and at a Copenhagen pop-up shop through Aug. 14
Why: When it comes to dressing the modern-day girl, Ganni has the aesthetic down to a science. In case you need further proof, peep the Scandi brand's third collaboration with Levi's. Mother Nature is one of Ganni's top priorities, both in practice and inspiration. This interest led to the sunny, relaxed collection of light jeans and cute dresses—made using over 60 percent sustainable materials and water-saving techniques—that are as perfect for street stomping as they are for a summer garden party. Emma Chamberlain joins the cast this go-around, frolicking in the fields for the campaign, as one does in the summertime. The collection debuted as part of Ganni's SS23 Copenhagen Fashion Week show, and is operating on a see-now, buy-now basis, so go forth and shop!
2 Aman Debuts Leather Goods 3 Nordstrom Launches New Concept 018: Virgil Abloh Securities 4 Zara Releases Atelier Collection 02: The Dress 5 Cotton Citizen Drops New Denim Collection 6 Emma Mulholland on Holiday Partners With Vans 7 Max Mara Introduces New Pasticcino Bag 8 Tom Ford Launches N.004 Timepiece
9 Tiffany & Co. Goes Virtual With 'NFTiff'
Who: Tiffany & Co.
What: First NFT, NFTiff
Where: Available online at nft.tiffany.com on Aug. 5
Why: When you're the world's biggest jeweler, you can't ignore the hype of online marketplaces like the NFT blockchain. So, after Tiffany's Alexandre Arnault shared a picture of his custom Tiffany CryptoPunk necklace, inspired by his own NFT, the jewelry juggernaut teamed up with blockchain technology company Chain to create a NFT of the design. Each NFTiff, as they are cheekily called, will draw from the over 10,000 CryptoPunk NFTs to create a pendant with gemstones and diamonds that is every bit unique. A select run of 250 pendants will be physically produced, if you're an IRL kind of shopper.
Kevin LeBlanc Kevin LeBlanc is the Fashion Associate at ELLE Magazine. Claire Stern Deputy Editor Claire Stern is the Deputy Editor of ELLE.com.
This content is created and maintained by a third party, and imported onto this page to help users provide their email addresses. You may be able to find more information about this and similar content at piano.io
Advertisement – Continue Reading Below