As we near the end of the 2022-2023 season, networks are already looking ahead to next year, and so are we. Welcome to pilot season.
We've gathered all the potential comedies and dramas that could end up being part of the primetime lineup on ABC, CBS, Fox, NBC, and The CW. Given how recent years have gone, chances are we'll see at least a few spinoffs, prequels, sequel series, or reboots. Reminder: the ones below may not all make it to series, and some that aren't on here could end up on the schedule.
Here's a breakdown of all the pilots in the works (and those already ordered to series) for the 2023-2024 season. Be sure to keep checking back for updates. (W=writer, EP=executive producer, P=producer, SP=supervising producer, D=director)
ABC
The Good Lawyer (Drama)
Cast: Kennedy McMann, Felicity Huffman, Bethlehem Million
W: David Shore, Liz Friedman
EP: David Shore, Liz Friedman, Ruben Fleischer
D: Ruben Fleischer.
Synopsis: In a backdoor pilot on The Good Doctor, Joni DeGroot is a brilliant, funny and self-aware lawyer who is living with OCD. She has never wanted to be treated differently. While her symptoms take a toll on her personal and professional life, her attention to detail allows her to see cases through a different lens.
The Hurt Unit (Drama)
Cast: Ben McKenzie, Michelle Ortiz, Melissa George, Jaime Lee Kirchner, Augustus Prew
W: Matt Lopez
EP: Matt Lopez, John Glenn, Marc Webb
D: Marc Webb
Synopsis: A highly skilled team of trauma surgeons and nurses race into the field to treat the patients who won't make it to the hospital in time. When the sick and the injured can't get to the ER, the HURT Unit, or Hospital Urgent Response Team, brings the ER to them.
Judgement (Drama)
Cast: Sarah Shahi, Portia Doubleday, Christine Adams, Ken Kirby
W: Joey Falco
EP: Joey Falco, Melvin Mar, Jake Kasdan, Jordan Cerf
Synopsis: It plays out over two timelines. Fifteen years from now, a woman being vetted for a Supreme Court seat recounts her experience at a prominent D.C. law firm in 2023, where the only thing more controversial than the cases was her messy love life, caught between two feuding brothers. Now, with a Supreme Court seat on the line, all of her darkest secrets are at risk of coming out, threatening her nomination, her reputation, and her marriage.
ABC/Jeff Weddell
Public Defenders (Comedy)
Cast: Anthony Anderson, Erika Henningsen, Arturo Castro, Kimrie Lewis, Natasha Lopez, Isaiah Dòdó-Williams
W: Eddie Quintana
EP: Eddie Quintana, McG, Mary Viola, Corey Marsh, Randall Einhorn, Liz Astrof
D: Randall Einhorn
Synopsis: Up to their earholes in student loan debt, four inexperienced public defenders work tirelessly to keep their clients out of jail. Along the way, they have to rely on each other to navigate their first defendants, the absurd court system, and the copy machine that always jams.
Untitled Drew Goddard Project (Drama)
Cast: Kaitlin Olson, Javicia Leslie, Daniel Sunjata
W: Drew Goddard
EP: Drew Goddard, Sarah Esberg, Pierre Laugier, Anthony Lancret, Jean Nainchrik
Synopsis: Based on the French series Haut Potentiel Intellectuel, the drama revolves around a single mom with three kids and an exceptional mind who helps solve an unsolvable crime when she rearranges some evidence during her shift as a cleaner for the police department. When they discover she has a knack for putting things in order because of her high intellectual potential, she is brought on as a consultant to work with a by-the-book seasoned detective, and together they form an unusual and unstoppable team.
CBS
Tracker (Drama) *Ordered to Series*
Cast: Justin Hartley, Mary McDonnell, Robin Weigert, Abby McEnany, Eric Graise, Fiona Rene
W: Ben H. Winters
EP: Justin Hartley, Ken Olin, Ben H. Winters
D: Ken Olin
Synopsis: Based on the bestselling novel by Jeffery Deaver, The Never Game features Hartley as lone-wolf survivalist Colter Shaw, who roams the country as a "reward seeker," using his expert tracking skills to help private citizens and law enforcement solve all manner of mysteries while contending with his own fractured family.
Elsbeth (Drama)
Cast: Carrie Preston, Wendell Pierce, Carra Patterson
W: Robert King, Michelle King
EP: Robert King, Michelle King, Liz Glotzer
D: Robert King
Synopsis: Based on the character from The Good Wife and The Good Fight. After her successful career in Chicago, Elsbeth Tascioni, an astute but unconventional attorney, utilizes her singular point of view to make unique observations and corner brilliant criminals alongside the NYPD.
Jumpstart (Comedy)
Cast: Terry Crews
W: Wayne Conley
EP: Wayne Conley, Aaron Kaplan, Melanie Frankel, Bridget McMeel, Wendi Trilling
Co-EP: Robb Armstrong
Synopsis: Based on the comic strip that debuted in 1989, set in Philadelphia, it follows Joe, a cop, his wife Marcy, a nurse, and Joe's partner Crunchy. Joe and Marcy are young, hip, urban parents with old school values who are willing to sacrifice for their kids and have some laughs while doing it.
Matlock (Drama)
Cast: Kathy Bates, Skye P. Marshall, Jason Ritter, David Del Rio, Leah Lewis
W: Jennie Snyder Urman
EP: Jennie Snyder Urman, Joanna Klein, Eric Christian Olsen, Kathy Bates
Synopsis: Based on the classic television series of the same name. After achieving success in her younger years, the brilliant septuagenarian Madeline Matlock rejoins the work force at a prestigious law firm where she uses her unassuming demeanor and wily tactics to win cases and expose corruption from within.
Untitled Wayans Father/Son Project (Comedy)
Cast: Damon Wayans, Damon Wayans Jr.
W: Kevin Hench, Damon Wayans
EP: Kevin Hench, Damon Wayans, Damon Wayans Jr., Kameron Tarlow
Synopsis: Legendary talk radio host and happily divorced "Poppa" has his point of view challenged at work when a new female co-host is hired, and at home where he finds himself still parenting his adult son, a brilliant dreamer who is trying to pursue his passion while being a responsible father and husband.
FOX
Universal Basic Guys/The Hoagie Bros. (Animated Comedy) *Ordered Straight to Series for 2024*
Cast: TBA
W: Adam Malamut, Craig Malamut
Synopsis: Brothers Mark and Hank Hoagies suddenly find themselves with no jobs when the Glantontown Hot Dog factory switches over to automation. Lucky for them, the town started a radical Universal BasicIncome pilot program, giving all residents of Glantontown $3,000 per month with no strings attached. Now, Mark, Hank and the rest of their local buddies are once again kids in the summertime, overflowing with the perilous combo of free time and stupid ideas. This is a show about men trying to find purpose in a world where they're no longer needed.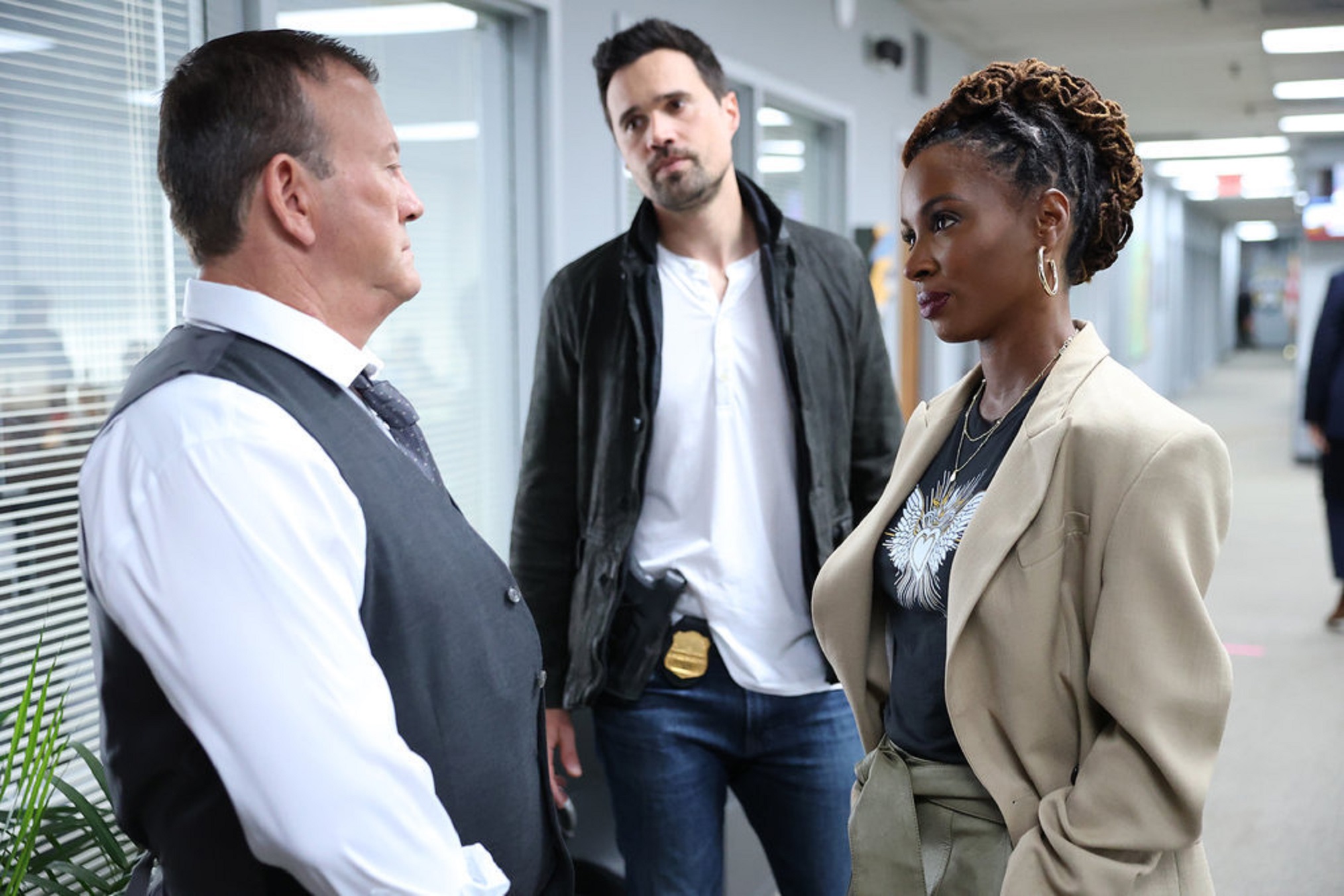 Matt Miller/NBC
NBC
Found (Drama) *Ordered to Series*
Cast: Shanola Hampton, Mark-Paul Gosselaar, Kelli Williams, Brett Dalton, Gabrielle Walsh, Arlen Escarpeta, Karan Oberoi
W: Nkechi Okoro Carroll
EP: Nkechi Okoro Carroll, Sonay Hoffman, Greg Berlanti, Sarah Schechter, Leigh London Redman, Lindsay Dunn
Synopsis: In any given year, more than 600,000 people are reported missing in the U.S. More than half that number are people of color that the country seems to forget about. Public relations specialist Gabi Mosely — who was once herself one of those forgotten ones — and her crisis management team now make sure there is always someone looking out for the forgotten missing people. But unbeknownst to anyone, this everyday hero is hiding a chilling secret of her own.
The Irrational (Drama) *Ordered to Series*
Cast: Jesse L. Martin, Maahra Hill, Travina Springer, Molly Kunz, Arash DeMaxi
W: Arika Lisanne Mittman
EP: Arika Lisanne Mittman, Mark Goffman, Samuel Baum
P: Jesse L. Martin
Synopsis: Alec Baker, a world-renowned professor of behavioral science, lends his expertise to an array of high-stakes cases involving governments, law enforcement and corporations with his unique and unexpected approach to understanding human behavior. Inspired by the best-selling book Predictably Irrational by Dan Ariely, who serves as a consultant.
Untitled Mike O'Malley Project (Comedy) *Ordered to Series*
Cast: Jon Cryer, Donald Faison, Abigail Spencer, Finn Sweeney, Sofia Capanna
W: Mike O'Malley
EP: Mike O'Malley, Tom Werner, Wyc Grousbeck, Emilia Fazzalari, George Geyer, Jon Cryer
Synopsis: After an amicable divorce, Jim and Julia decide to continue to raise their kids at the family home while taking turns on who gets to stay with them. Navigating the waters of divorce and child-sharing gets more complicated for Jim when the owner of his favorite sports team enters the picture and wins Julia's heart.
Murder by the Book (Drama)
Cast: Retta, Tituss Burgess, Tommy Dewey, Siobhan Williams
W: Jenna Bans, Bill Krebs
EP: Jenna Bans, Bill Krebs, Casey Kyber, Retta
D: Michael Weaver
Synopsis: A big city Instafamous book reviewer takes a page from the murder mystery books she reviews and becomes an unlikely detective to uncover the shocking truths about an eccentric seaside town.
Non-Evil Twin (Comedy)
Cast: Amber Ruffin
W: Amber Ruffin, Kenny Smith
EP: Amber Ruffin, Kenny Smith, Jenny Hagel
Co-EP: Olivia Morris
D: Kelly Park
Synopsis: A woman is forced to step in to her sister's role as the leader of a Fortune 500 company despite knowing little about business and even less about the way her sister has been running the corporation.
St. Denis Medical (Comedy)
Cast: Wendi McLendon-Covey
W: Justin Spitzer, Eric Ledgin
EP: Justin Spitzer, Eric Ledgin, Simon Heuer
D: Ruben Fleischer
Synopsis: A mockumentary about an underfunded, understaffed Oregon hospital where the dedicated doctors and nurses try their best to treat patients while maintaining their own sanity.
Wolf (Drama)
Cast: Zachary Quinto
W: Michael Grassi
EP: Michael Grassi, Lee Toland Krieger, Greg Berlanti, Sarah Schechter, Leigh London Redman, Henrik Bastin, Melissa Aouate, Jonathan Cavendish, Andy Serkis, Will Tennant
D: Lee Toland Krieger
Synopsis: Inspired by Oliver Sacks' extraordinary life and work, "Wolf" follows a revolutionary, larger-than-life neurologist and his team of interns as they explore the last great frontier, the human mind, while also grappling with their own relationships and mental health.