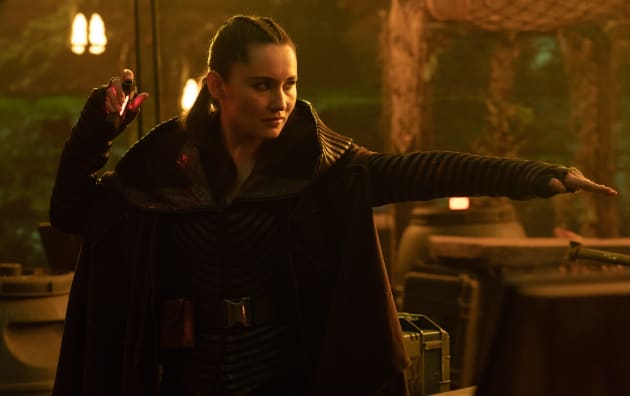 You're forgiven if Star Trek: Strange New Worlds Season 2 Episode 1 evokes strong feelings of déjà vu.
After all, the entire plot of the recently concluded Star Trek: Picard Season 3 hinges on stealing a starship. Also, Captain Seven is challenged to coin her engage phrase on Star Trek: Picard Season 3 Episode 10, just like Spock here.
Finally, the ship launching from underground caverns? We've seen that in animated forms on both Star Trek: Lower Decks Season 3 Episode 7 and Star Trek: Prodigy Season 1 Episode 2.
All that being said, familiarity breeds no contempt as we slip into the comfortable, chummy embrace of our pined-for Enterprise ensemble.
With the Season 1 finale leaving us on tenterhooks about Una's fate, the writers subvert expectations by delaying that question by shipping Pike off-site for the entire premiere adventure.
Instead, we bring La'an back into the fold as her quest to reunite fellow Gorn-surviving girl warrior, Oriana, with her parents uncovers a threat to the Federation's peace with the Klingons.
(If others are wondering about Oriana's resemblance to the First Servant on Star Trek: Strange New Worlds Season 1 Episode 6, the child actors are twin brother and sister.)
Despite the opening log being Pike's, this is a tale of Spock, through and through.
From his anxiety regarding his first acting command stint to the fallout from his battling the Gorn to his burgeoning feelings for Chapel, Spock's humanity is front and center and oh, so apparent.
There's a lot of levity woven throughout what could be a purely action-oriented mission which may be why the season kicks off with it versus the Una narrative, which is bound to be a weighty look at identity and societal wrongs.
If you're going to steal a starship, do it correctly.

Pelia
Carol Kane, as Chief Inspector (then Chief Engineer) Pelia, is a quirky and intriguing addition to the crew.
I can't imagine anyone more different than our dearly-departed Hemmer.
So, Lanthanites. Who are they? Humanoids, obviously. Very long-lived and thereby rich in knowledge, experience, and perspective.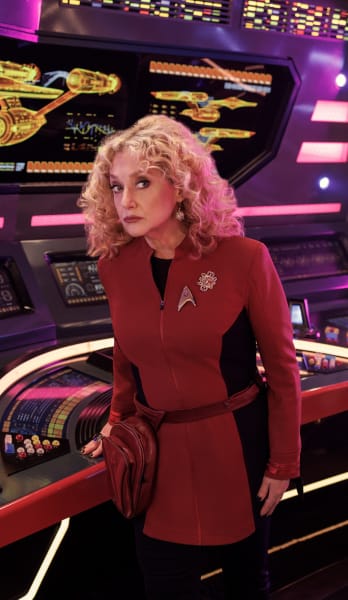 And because all roads back to Spock, Pelia has a special connection through his mother, Amanda.
My favorite scene is Pelia explaining the greatest burden of her longevity to Spock after indulging in some drinks on Cajitar-4.
Pelia: You asked me why I helped you. You wanna know the worst thing about living almost forever?
Spock: The loss of those you love?
Pelia: Oh, you sweet un-Vulcan Vulcan. No, that's a pain shared by all those who live with even half-open hearts. No, it's BOREDOM. And on that ship of yours, there seems to be a shortage of that. I like it! I may try and stick around.
There's no poetry in her reflection. It's an honest and blunt statement of fact. She's bored as an inspector and educator, and she makes her intentions to find her groove again with the Enterprise known in short order.
To be fair, she'd clearly parted ways with her inspection team in spirit if not body, as she let them all be evacuated on the bogus warp core breach without a peep to the contrary.
Pelia: Do you have a good reason to steal the ship?
Spock: I am having what you humans call a hunch.
Pelia: A Vulcan with a hunch! That's a new one!
Her impish speech style seems to belie a brilliant mind and wit. I look forward to seeing how Pelia integrates into the crew. It may be tricky, with Hemmer's death still a raw wound for many, but as mentioned previously, she is a very different Chief.
Spock's newly uncorked emotions drive much of the plot and actually appear to heighten his abilities to take action and analyze situations despite his personal reservations and concerns.
Spock: I am concerned my emotions may impact my judgment.
M'Benga: You will just have to learn to live with it. Like we all do.
Spock: No, I prefer not to.
I find it fascinating that his logic immediately leads him to steal the ship in the face of Admiral April's refusing the request to respond to La'an's distress call.
Spock: Our former comrade is in trouble. She has indicated aid to her is essential for the safety of the Federation. I will need your help to get the inspectors off the ship and achieve our objective. But I will not ask you to do something you believe is wrong. If you wish to leave or report this plan, I will not stand in your way.
Chapel: What plan?
Spock: I would've thought it obvious. We must steal the Enterprise.
But his engage phrase is pure Spock.
Ortegas: You gonna say it? Your thing?
Spock: My what?
Ortegas: Your thing. Y'know, everyone in the chair has their thing.
Uhura: Captain Pike always says, 'Hit it'
Mitchell: My last captain liked to say, 'Zoom'
Spock: Must I have a thing? [to Ortegas] Do you have a thing?
Ortegas: Well. I've been workshopping, 'Vamoose' but it's supposed to be about you. What kind of commander are you? All that. So… no presh.
Spock: I would like the ship to go. Now.
Ortegas: Aye-aye, captain.
The timing of his order to fire on the false Federation ship is only perfect because his feelings for Chapel force him to hold off until the last possible second.
It's an absolutely brilliant progression of dramatic tension, balancing the physical danger against the emotional anguish.
Chapel and M'Benga's relationship assumes several new layers in this premiere.
As colleagues, they diplomatically set aside a discussion about Spock to consider the repercussions of Chapel taking a fellowship at the Vulcan Science Academy.
As medics, they step up to tend to the wounded on Cajitar-4.
As comrades-in-arms, they have each other's backs as they're marched into the enemy's lair, faced with a hopeless mission, and prepare to take the most improbable escape option.
Chapel: Can't believe this is how we're going to die.
M'Benga: We've gotten out of worse.
Chapel: No. Not really.
M'Benga: I suppose not.
There's a hefty backstory on-ramp built with their mention of their service during the Klingon war and their unfathomable trust in each other. Jess Bush and Babs Olusanmokun mentioned at a recent roundtable interview that Star Trek: Strange New Worlds Season 2 Episode 8 will delve into their shared history.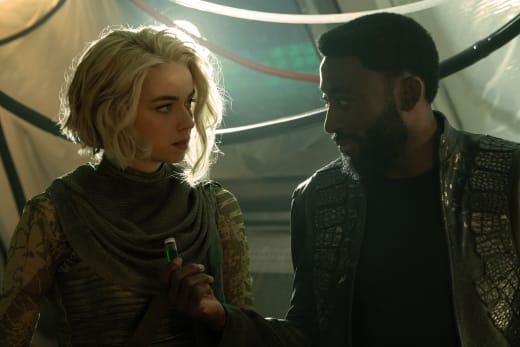 As season premieres go, this one checks all the boxes by addressing the major plot points from Star Trek: Strange New Worlds Season 1, digging into character motivations and emotional needs, and introducing new crew and conflicts.
I suspect the Gorn threat will be the season-long arc, as it's only teased here, while Una's court martial and the Spock-Chapel complications will be far more in our face.
M'Benga: Increased heart rate. Heightened pain in neck, jaw, and lower back. If I didn't know better, I'd say you were experiencing what we humans call stress.
Spock: That is atypical.
I'd love to be a fly on the wall when Spock has to debrief with Pike on his return. Not that Pike wouldn't have done any different had he been there to catch the distress call. I just think his reaction to Spock stealing the ship would be AMAZING to see.
Una: Don't start a fight you can't win. You taught me that.
Pike: You didn't start this. They did. And we're going to find a way to win because it's what's right.
Una: There's the Boy Scout in you again.
In fact, it would probably be very similar to La'an's when the false Federation ship launched out of the planet right in front of her—such a stellar bit of absurd visual humor.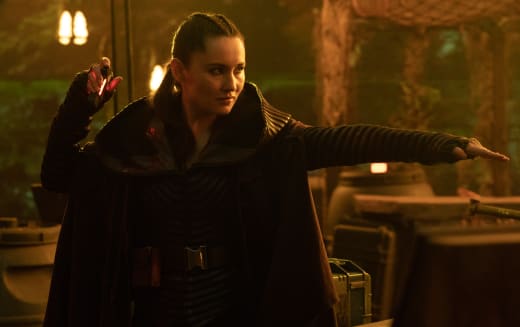 With so many dazzling bits of scripted genius sprinkled in this adventure, what are your highlights?
Spock's hangover? La'an's anti-matter deadman's switch?
Ortegas going toe-to-toe with the inspector? Uhura throwing herself bodily in front of her station?
Chapel: Sure you want to do this again?
M'Benga: Again? No, but I'm not seeing a better choice.
M'Benga revealing he carries 23rd century Witcher berserker potions that can be administered with a hypospray? The fact he and Chapel have used them before?
Are you feeling transported? Beam on down to our comments and set your comments to stunning!
Diana Keng is a staff writer for TV Fanatic. She is a lifelong fan of smart sci-fi and fantasy media, an upstanding citizen of the United Federation of Planets, and a supporter of AFC Richmond 'til she dies. Her guilty pleasures include female-led procedurals, old-school sitcoms, and Bluey. She teaches, knits, and dreams big. Follow her on Twitter.