Meet Jimmy Laird.
He's a father, a therapist, a colleague, a friend, a neighbor, a mentee, and a grieving widower on Shrinking Season 1 Episode 1 and Shrinking Season 1 Episode 2.
Aside from the grieving part,  he's failing at all these roles.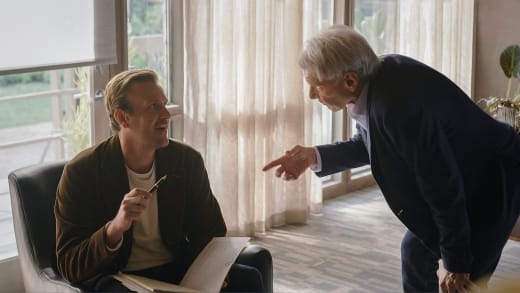 He has a breakthrough at work when he seems stuck in his pit of despair for eternity.
As he explains to his mentor and friend, Paul, if he gets his hands dirtier and becomes more involved, he can make real changes in his patients' lives.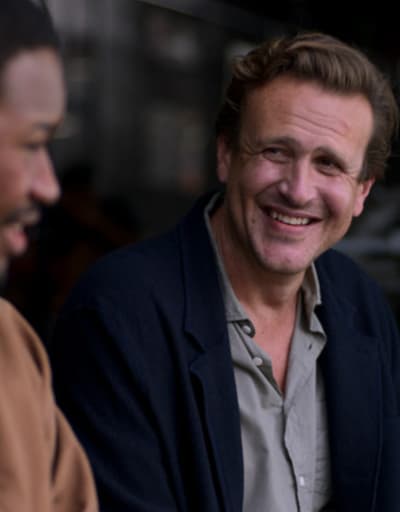 He will do this even though it goes against all the tenants of his profession. 
I guess one thing led to another. Like there's no way I'd make Sean fight cage matches if I hadn't already forced Grace to leave her husband.

Jimmy
This is not fourth wall breaking. However, it is apparent the creators of Shrinking have taken Jimmy's newfound methodology to heart and applied the spirit of it in their approach to writing the show.
More so than with poetry or prose, screenwriting demands structure. A TV show's beginning needs to be a roadmap for what is to come.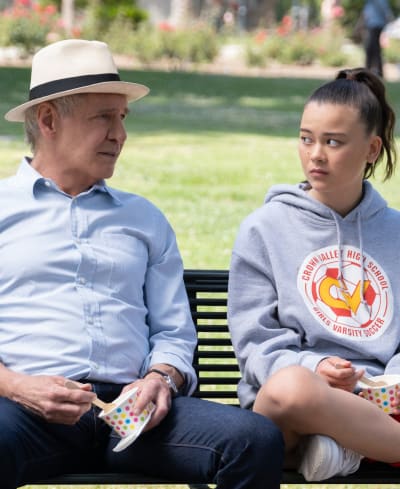 Ted Lasso, for instance, was upfront about setting up the questions the audience needed to be answered before the first season ended.
When would Ted find out about Rebecca's revenge scheme to run Richmond into the ground? Will Jamie become a team player? Can the team avoid relegation?
Shrinking is less structured and focuses on immersing you in the gooey messiness known as Jimmy's life. The good news is it is an engaging watch.
Gaby: Do you know what percentage of yourself is actually water?
Paul: I know what percentage of me doesn't give a s**t.
The performances are a crucial factor for why the show works as well as it does.
Jason Segel has long since proven his acting chops, and an actor of his caliber is essential for the role of Jimmy.
Even though he has been grieving for a year, Jimmy is hardcore emotionally torturing himself. As a result, his mood swings are sudden and constant; sometimes, it's played for laughs and other times for drama.
Segel effortlessly conveys the gamut of emotions Jimmy feels and easily switches between comedy and drama without missing a beat.  
I'm going to take a bath. I moved the TV in there so I can watch movies.

Jimmy
Segel's charisma is crucial because the beginning is very Jimmy-centric, and Jimmy isn't always the most likable character.
Harrison Ford is amazing as Paul. His scenes are the standouts, and he generates the biggest laughs. The dialogue is clever and funny on its own, but Ford's delivery makes it hilarious.
Paul is an excellent addition to the pantheon of fictional mentors. What's surprising is how warm and empathetic he is off the bat.
Does he have his grumpy moments? Yes. However, he doesn't come across as bitter the way cantankerous mentors so often do.
Not only is Ford convincing as a therapist, but he's convincing as a good therapist. 
One of the benefits of anchoring everything around Jimmy during the early stages is there's little time spent on Paul's Parkinson's Disease.
It comes up a couple of times, and Ford's body language conveys it. However, there are no plotlines around it yet.  
Jimmy: So not a fun talk?
Paul: Not for you.
As a result, the disease does not define his character. We see Paul as a rounded, multi-faceted person with a full life. 
Christa Miller's Liz should not be dismissed as a Jordan from Scrubs or Ellie from Cougar Town clone.
It would be akin to saying Han Solo and Indiana Jones are the same characters. Even though there are similarities and they're played by the actor, each character has distinctly different backgrounds and motivations.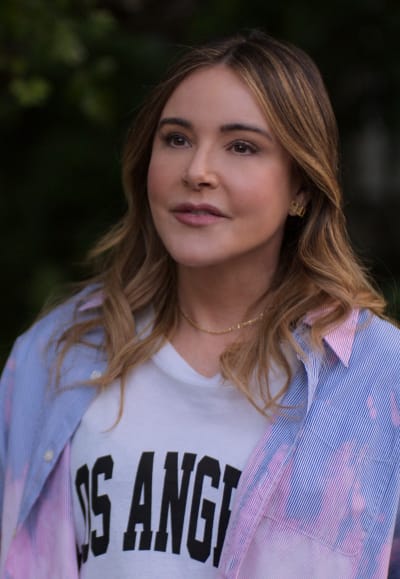 Liz's approach and feelings towards motherhood are very different from Jordan's and Ellie's. She's also not as anti-people and more willingly involves herself in other people's lives.
It's to Miller's credit she can take a character type she played before on campier television series and never feel like a transplant who belongs on a completely different show.
I'm a goddamn ray of light. I am human Zoloft.

Brian
Michael Urie as Jimmy's estranged best friend, Brian, is a delight. When he says he's human Zoloft, it's not hyperbole.
It was the right choice not to introduce him immediately and allow his integration into the plot to come at a natural pace.
Brian: How do I look?
Charlie: Great, it's just a phone call.
Jessica Williams, as Gaby, currently gets the shortest shrift out of the regulars. Gaby has a great rapport with both Jimmy and Paul, and her interaction with Liz leaves you wondering what will happen next. However, the character remains an enigma.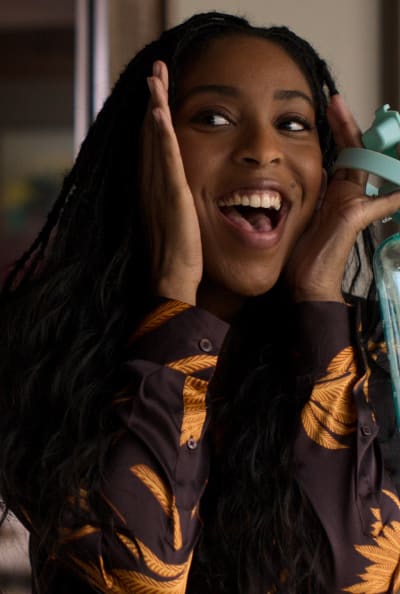 Beyond a great cast and fascinating characters, Shrinking has many of the other hallmarks we loved about Ted Lasso, Cougar Town, and Scrubs.
The writing is intelligent but not pretentious. It provokes an emotional response without feeling manipulative.
Paul: You know who the most important person in your life is right now?
Jimmy: You.
Paul: No, you s**thead, your daughter.
Jimmy: Right, that's what I meant.
Paul: I'm second
It expertly blends comedy and drama. The sequence of events, from Jimmy and Sean racing to the soccer match to Grace's husband showing up, is a great example of how easily the show can transition from hilarity to horror.      
Plus, it has a kickass soundtrack.
You will be reminded of those other shows. For instance, the cut to Liz singing "Psycho Killer" reminded me of several Cougar Town moments, especially the gag where Ellie goes full-blown gangster. Jimmy, Brian, and Sean love ice cream as much as Roy Kent.  
These aren't bad things; they're just the trademarks of the creators. Any similarities do not get in the way of enjoying Shrinking. It stands on its own.   
Jimmy: I'm starting to lose hope.
Paul: Well, it's understandable, you've been trying this approach for almost ten minutes.
Over to you, TV Fanatics!
What are your thoughts on the Shrinking premiere?
Will you be coming back for more? 
Becca Newton is a staff writer for TV Fanatic.