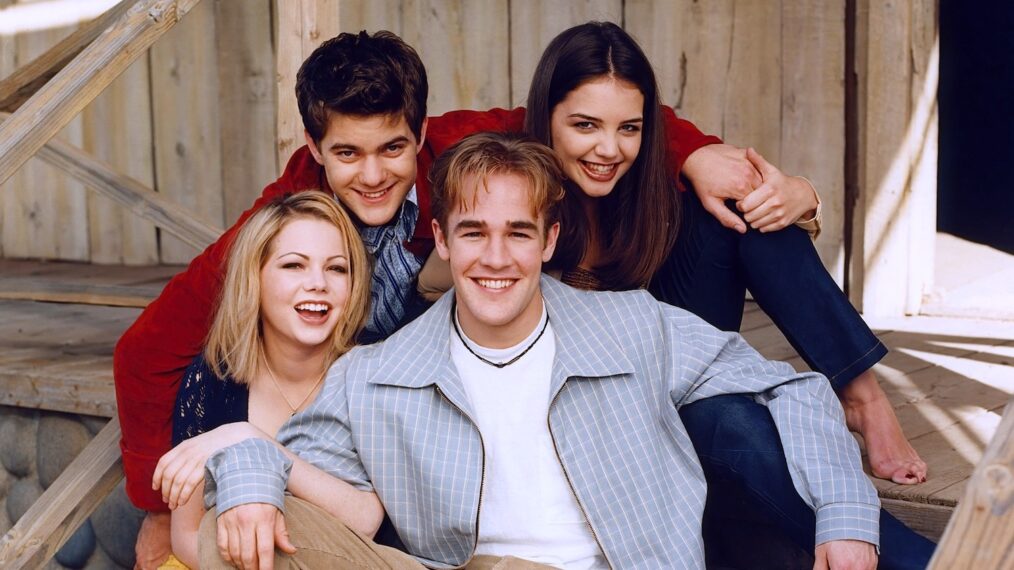 Hard as it may be to believe, the teens of Dawson's Creek would be in their 40s and old enough to have high schoolers of their own by now. The hit WB teen drama debuted 25 years ago, launching the careers of James Van Der Beek, Katie Holmes, Joshua Jackson, and Michelle Williams.
Airing for the first time on January 20, 1998, Dawson's Creek followed initially four teenagers — nerdy filmmaker Dawson (Van Der Beek), his wisecracking friend Pacey (Jackson), tomboy next door Joey (Holmes), and New York City emigré Jen (Williams) — and their family members in the fictional town of Capeside, Massachusetts.
Springing from the mind of Scream creator Kevin Williamson, Creek was more self-aware than your typical teen drama — and "show[ed] teens a reflection of how they want to be seen: witty, urbane, and always armed with a perfectly barbed, sarcastic comeback," as Entertainment Weekly's Chris Nashawaty wrote in 1997.
If you'd like to binge-watch highlights of the show in honor of its 25th anniversary, scroll down to see the 10 best episodes of the show, according to IMDb voters. (But you might want to watch them in chronological order unless you're as into avant-garde cinema as Dawson is.)
10. Season 1, Episode 7: "Detention"
In an episode written by future The White Lotus creator Mike White, the Capeside gang gets stuck in Saturday detention, exposing tensions between the central four. One IMDb reviewer says this episode is a standout "because it's the first to really build the relationships and conflicts between the characters."
9. Season 3, Episode 22: "The Anti-Prom"
The friends organize an alternative prom night to give Jack (Kerr Smith) and Ethan (Adam Kaufman) a night to remember. As Dawson tries to win Joey back, Jen hits a roadblock with love interest Henry (Michael Pitt). "I love this episode," a fan writes on IMDb. "And everything I want to happen, eventually does. Well, most of it, anyway."
8. Season 1, Episode 13: "Decisions"
Pacey argues with older brother Doug (Dylan Neal) over his failing grades, Grams (Mary Beth Peil) tries to get Jen to pray for her dying grandfather, and Joey's potential semester abroad in France leads Dawson to confront his feelings for her. On IMDb, one fans calls this "a wonderful end" to a "fantastic first season" and highlights the "touching" scene of Joey visiting her father in prison.
7. Season 3, Episode 19: "Stolen Kisses"
On a spring-break vacation with Dawson, Joey, and Pacey, Andie (Meredith Monroe) connects with their childhood friend Will (Rodney Scott, setting up the WB spinoff Young Americans). Meanwhile, as she works as a hostess at Dawson's parents' restaurant, Jen is bothered when another woman flies with Henry. An IMDb reviewer gives this episode 10/10 for the Pacey-Joey scenes. "I mean, they are my favorite couple from this series," that user adds.
6. Season 2, Episode 15: "…That Is the Question"
In this episode, written by future Arrowverse co-creator Greg Berlanti, Jack struggles with his sexuality and his unaccepting father, while Grams sticks up for the newly-out teen. And in a subplot, Pacey clashes with an abusive teacher. "I'm no religious guy, but this episode just touch[ed] me the most," a fan wrote in an IMDb review, spotlighting Peil's "wonderful portrayal of a devoted lady."
5. Season 3, Episode 23: "True Love"
In the third-season finale, Dawson's parents Mitch (John Wesley Shipp) and Gale (Mary-Margaret Humes) remarry, while Joey decides between Pacey and Dawson. The episode ends with Dawson sobbing, launching an immortal meme. "I like this episode," says one IMDb user. "It's enjoyable, especially Dawson's 'cry face.' That is just priceless."
4. Season 3, Episode 20: "The Longest Day"
As this episode retells the same day from three perspectives, Dawson learns of Joey and Pacey's feelings for one another… and doesn't react well. Also upset about that burgeoning relationship is Andie, who's still not over her breakup with Pacey — and certainly not as ready to date Will as she thought. "I think it's definitely one of my all-time favorite episodes from this season and the entire series," a fan wrote on IMDb.
3. Season 6, Episode 23: "All Good Things…"
In the first half of the series finale, the plot jumps to 2008, when the gang is headed back to Capeside for a reunion. Dawson is now running an autobiographical TV drama called The Creek, Joey is a book editor with a new boyfriend, Pacey is a restaurant manager, and Jen is an art gallery curator with an infant daughter… and a lethal heart condition.
2. Season 6, Episode 15: "Castaways"
This bottle episode has Pacey and Joey trapped in a Kmart store overnight — and facing hard truths about their friendship and romantic feelings. "I love this episode," one IMDb reviewer writes. "Pacey and Joey have great chemistry, and it's nice to see them reconnect."
1. Season 6, Episode 24: "…Must Come to an End"
In the series finale's second half, Jen makes her final arrangements — and films a video for her infant daughter, with Dawson's help — before succumbing to her heart condition. Meanwhile, Doug commits to a relationship with Jack, who becomes the caregiver of Jen's daughter, and Joey finally reaches a decision about Dawson vs. Pacey. "The sad part of the series is that it has to end, but it has the best ending I have ever watched," a fan writes in a 10-star review on IMDb.