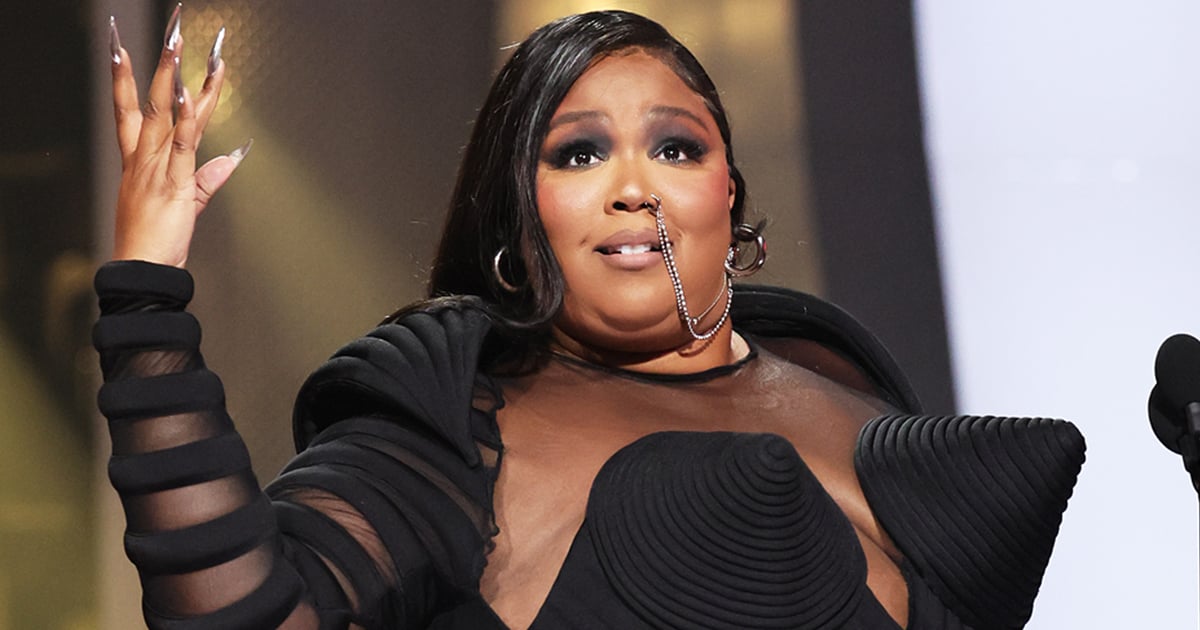 Lizzo energized the 2022 VMAs stage on Aug, 28, when she stepped up to accept the best video for good award from Bebe Rexha for her "About Damn Time" song. Dressed in her third look of the evening, a sheer corset dress from Jean Paul Gaultier's Fall/Winter 2022 Couture collection, the "2 Be Loved (Am I Ready)" singer thanked her fans for their devotion and support. She also took a moment to address recent comments from body-shaming trolls. "And now, to the b*tches that got something to say to me in the press," she said. "You know what, I'm not gonna say nothing. They be like, 'Lizzo, why don't you clap back?' 'Cause b*tch, I'm winning, hoe! Big b*tches winning, hoe! Best revenge is your paper!"
Taking inspiration from Madonna's iconic cone bra debut in 1990, Lizzo flawlessly pulled off the Glenn Martens creation, which featured a U-shaped middle leg slit and a plunging cone bra bustier. Her stylist, Brett Alan Nelson, paired the look with silver hoop earrings, a chain-link nose ring, and strappy black pumps.
During the Chiba, Japan stop on her "Blond Ambition" tour, Madonna made fashion history when she appeared onstage in a pink conical corset bra designed by Jean Paul Gaultier. The structured, BDSM-inspired garment was the "Material Girl" singer's response to media controversy and criticism over her "Like a Prayer" album. Tailored to embody both masculine and feminine fashion of the time, Madonna's cone bra was a celebration of sexuality without shame and a rebellion against traditional beauty standards placed on women.
Lizzo's decision to wear a cone bra dress by the same designer adds depth to an already meaningful occasion. She may not have articulated it, but her fashion statement was a subtle reminder that women of all shapes and sizes can, and should, feel free to express their sexuality and love their bodies.
Take a closer look at Lizzo's acceptance speech outfit from the MTV VMAs ahead.