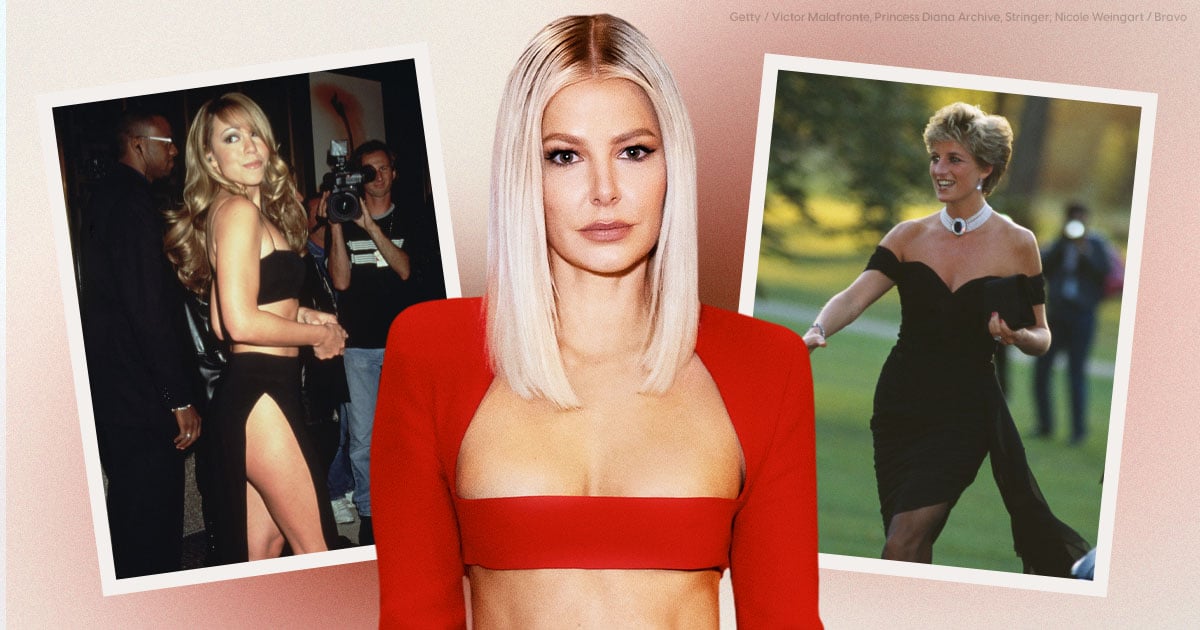 Princess Diana in an off-shoulder minidress when Prince Charles went public with his affair. Mariah Carey in a hip-high slit after leaving a tumultuous marriage. Ariana Madix in a fiery-red cutout set in the wake of #Scandoval. The revenge dress isn't a new phenomenon, but it remains at the forefront of everyone's minds. Inspired by the black mini worn by the Princess of Wales in the 1990s, the modern revenge dress is fashion at its most communicative. It's bold, fitted in silhouette, and red or black in color. It boasts plunging necklines and conspicuous cutouts, high splits and open backs. It's a comeback story, rendered sartorially.
Despite the revenge dress's enduring legacy, I always felt uneasy about it. How vengeful is a sultry dress anyway? A better act of revenge would be, well, cheating back, as Chlöe sings. What's more, the concept of "revenge dressing" frames a woman's wardrobe and appearance as her primary weapons of power. What about revenge accomplishments? Revenge art? Revenge careers? Why is it that — after a woman's been wronged — the statement that really makes an impact revolves around how she looks?
I also wasn't sold on the idea of dressing with the offending party in mind. Fashion is such a personal, intimate act for me; I get dressed based on my mood, my desires, my social calendar for the week. I don't want that process to be hijacked by someone else, let alone someone who caused me harm.
"[…] there's something empowering about the revenge dress. It speaks to the confidence of a woman who knows that her value goes far beyond how she was treated.
But I learned — through experience — that there's something empowering about the revenge dress. It speaks to the confidence of a woman who knows that her value goes far beyond how she was treated.
My revenge dress story is pretty typical. Three years ago, pre-pandemic, I found myself on the verge of a break up. We had been so in sync; we had amazing chemistry; we saw a future together with kids, pets, and even a few business ventures. But when I signed into his Netflix account, of all things, I saw a newly-created profile bearing another woman's name — someone he'd visited once to help her fix a broken water pipe, allegedly. I inquired about it, and our relationship quickly unraveled from there. He was belligerent and I was crushed. And the New Year's Eve party invite I had accepted a few days prior hung in the balance.
I was not in the mood to dress up and be around people. But then I reconsidered; after all, I usually enjoy a night of revelry and I refused to let him take that away from me. I landed on a dress that encapsulated that mood perfectly. A sequin micro mini with exaggerated sleeves and a plunging neckline. It was just the boost I needed to feel like myself again.
It's the same energy Tina Turner emanated when she stepped out in 1986 after leaving her abusive marriage. She donned a skin-tight leather Azzedine Alaïa gown with four cutouts down the side, her hair in a blonde spiky mullet. Becky G had a similar air of confidence as she posed in a black lace dress at the iHeartRadio Music Awards — on the same day her fiancé addressed cheating rumors. Shakira quite literally channeled Princess Diana in a gown reminiscent of the original revenge dress. She wore a black, plunging, high-slit gown for an appearance at the 2022 Cannes Film Festival after separating from her philandering boyfriend.
Dressing for revenge is less about retaliation, and more a bold declaration of self-love. It's putting on a brave face and a tight, cutout dress — and letting the world know that what happened to you didn't break you and will not define you. Keep scrolling to glean your own confidence from the best celebrity revenge moments of all time, from Princess Diana to Ariana Madix.