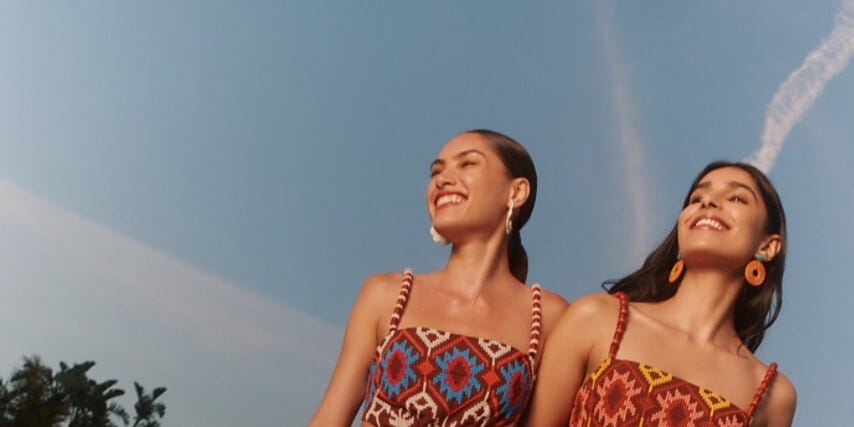 No three words can vex summer-travel packing more than "just in case." Taking more than you need, just in case, will always end up weighing you down. But you can avoid "just in case" entirely by packing light and smart, with curated selections targeted for exactly what you'll be doing and where you're going.
Consider the versatility of a piece and how it can be used over the duration of the trip. Skip the cute puffer vest, just in case it gets cold that one night in Doha (we're not speaking from any recent experience, of course), or the sequined cocktail dress, just in case you go dancing in Cabo San Lucas. Avoid heavy, non-breathable fabrics. And don't pack anything that can't be used more than once. Opt for neutral colors and lightweight items that can transition easily from day to night. Here are some of our favorite—and versatile—looks to carry on this season to various destinations, all sourced at Nordstrom.
Touring Cultural Cities
Johannesburg, South Africa
City tours are always a big draw for travelers. Once you get a taste of Barcelona, London, and Paris, it's easy to start penciling in the next big city in the farthest place from home.
When visiting Johannesburg or any city that has a strong, rooted cultural heritage, you can't miss with a style combination of comfort and luxury that takes your look from a historic site to an evening cocktail at a cozy local eatery.
Missoni, Sequin Zigzag Sweater Dress
This easy day-to-evening sweater dress is made for layering, which is crucial when traveling. Easy to pack, it can be dressed up or down for the day with a neutral leather jacket.
Jacquemus, Le Bob Ficiu Embroidered Logo Raffia Bucket Hat
Made from lightweight raffia, this city-to-beach hat provides sun protection while looking chic. Drop it in your travel tote bag once the sun sets on your day.
Isabel Marant, Malebo Beaded Cowrie Bracelet
Make this Isabel Marant bracelet your signature travel accessory piece, its lightweight and neutral colors make it simple to style. The cowrie shells give off a casual, but still glam vibe.
Fendi, Hiker Sandal
Ever so lightly embossed with the iconic Fendi logo, this neutral sandal has a sneaker feel. Casual and lightweight, it easily goes from airplane to gallery touring and boutique shopping to dinner in the lovely Rosebank area.
Poolside Escape

Dominica
Not many getaways rival traveling to a gorgeous resort in a warm, breezy location where you can linger over longer days with good food, good wine, and even better friends. Resorts in the eco-conscious Caribbean nation of Domenica make going poolside an all-out event, even fitting many villas with private plunge pools.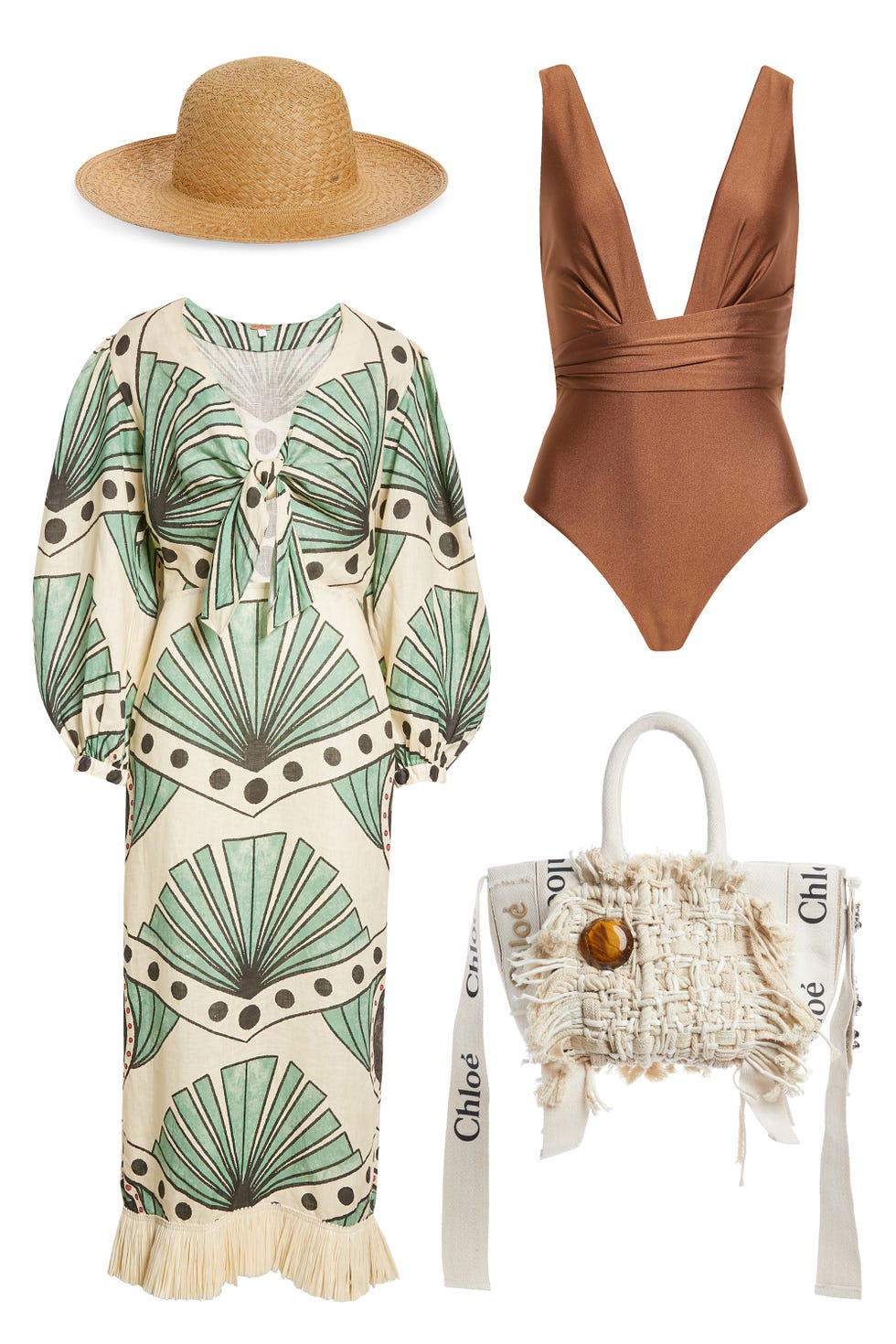 Saint Laurent, Maui Straw Hat
This woven flat-brim hat is not only stylish but, along with your already applied SPF, gives needed skin and heat protection.
Zimmermann, Raie Plunge Neck One-Piece Swimsuit
Featuring a deep plunge and shimmering bronze tone, this stylish suit is universally flattering and perfect for lounging or lunching.
Chloe, Medium Woody Woven Patch Tote
With a removable crossbody strap and an undeniably French design, this organic tote is a stylish way to transport all the goodies from a day of shopping.
Johanna Ortiz, Mother Continent Long Sleeve Raffia Fringe Midi Dress
Exuding natural glam and made of 100 percent linen, this effortless fringe dress speaks to the lover of sustainable luxury. Wear as a stand-alone loungy dress, or as a swim cover-up while lunching on fresh fish, conch, plantains, and cocktails poolside.
Sunset Dinner
Maldives
Somehow the sunsets here are different. The pastels of the setting sun set against the clearest waters of the Indian Ocean, balanced on top of talcum-powder white sand, make the golden hour in the almost 1,200 islands of the Maldives a spectacle. At resorts here, you'll find the ultimate sunset dining and cocktails, on the beach or a sunset dinner cruise.
Jacquemus, Knot Detail One-Shoulder Links Stitch Dress
This cotton-blend off-the-shoulder dress goes from travel bag to dinner under the setting sun nearly wrinkle-free. On breezier days, you may want to carry a wrap.
Isabel Marant, Bonni Beaded Hoop Earrings
These elegant, beachy hoops with gold beads add just a touch of sparkle to your sunset dinner outfit.
Zimmermann, Leather Fisherman's Tote
Although this netted-leather and textile tote is tailor-made for the beach, it travels nicely back to the farmer's market in the city.
Chloe, Pema Platform Espadrille Sandal (Women)
In the Maldives, the preferred footwear is no footwear. These beachy sandals will complete your bohemian, elegant look for an elevated evening.