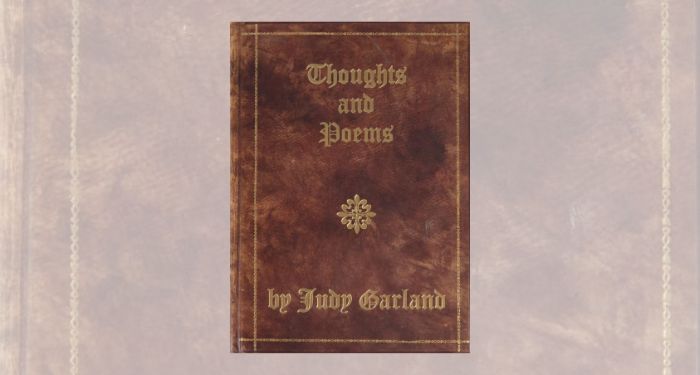 This content contains affiliate links. When you buy through these links, we may earn an affiliate commission.
In popular culture today, Judy Garland is best remembered as an actress, singer, and entertainer extraordinaire whose personal struggles often overshadowed her professional accomplishments.
While she was under contract for 15 years with Metro-Goldwyn-Mayer (MGM) during which she starred in career-defining musical roles in The Wizard of Oz, Meet Me in St. Louis, Easter Parade, and numerous others, her life was plagued by impossible work demands. As such, biographers differ on whether it was her mother or MGM that got her hooked on amphetamines to keep her going; whatever the case, it led to a lifelong battle with alcohol and substance abuse.
Following her untimely dismissal from MGM in 1950, she rebounded from a highly publicized suicide attempt with record-breaking concert appearances that redefined her career outside of Hollywood. She received an Academy Award nomination for what was supposed to be her triumphant comeback film, A Star is Born, and became the first woman to win the Grammy Award for Album of the Year for the live recording of Judy at Carnegie Hall. Still, financial difficulty and drug dependence doomed the rest of her life, and she died from a barbiturate overdose at the age of 47 in 1969.
But one fact about Judy Garland that often gets left out of modern reporting on the star is that she was a passionate fan of poetry. In fact, as a teenager at MGM, she self-published her own book of poetry called Thoughts and Poems. It was 10 pages long and contained eight poems. It first published in 1940 with only a select few copies given out to close friends. Jack Chitgian Bookbinding Service in Beverly Hills, who manufactured the book, reprinted an unknown amount of copies in the early 1970s after Garland's death. One copy that survived was sold at auction in 2017 for $1,600.
According to Manuel Betancourt in Judy Garland's Judy at Carnegie Hall, the poems Garland wrote in the 1930s are defined by "overly dramatic scenes of romance and glamour befitting a teenage girl who pined away for boys who were always much more interested in, say, Lana Turner, than Judy herself." In her early years, Garland was always made out to be the ugly duckling when compared to other young MGM stars like Turner, Elizabeth Taylor, and Ava Gardner. Her first serious romance was with band leader Artie Shaw, who left her to elope with Turner in 1940.
Check Your Shelf Newsletter
Sign up to receive Check Your Shelf, the Librarian's One-Stop Shop For News, Book Lists, And More.
Thank you for signing up! Keep an eye on your inbox.
By signing up you agree to our terms of use
But some the poems still accessible today read more sophisticated than lovelorn poems about being misunderstood or teenage puppy love. They manage to maintain a sense of whimsy and innocence while also being wise beyond their years. Take a poem titled "Deny Me Not," for example, that reads: "I tread into a sea of fire, / Of heartbreak, and of joy supreme. / Yet terrifying for its unending depth, of fatality, humility, tragedy, and through these, ghostly reality." Her stanzas read more like a young Sylvia Plath more so than the lovestruck teenager from a Happy Days episode, which is what most existing documentation on Thoughts and Poems makes it out to be.
In 1978, a plethora of Garland's personal and professional effects that were in the possession of her second husband Sid Luft were sold at auction in Los Angeles, where Debbie Reynolds, Liberace, and Barry Manilow had reportedly expressed interest in attending. Among the items up for auction was a copy of Thoughts and Poems — perhaps the same copy that was auctioned off again in 2017. The New York Times, who interviewed Luft ahead of the auction, included a few lines of an untitled poem presumably from the book in their article, which reads: "I've done nothing wrong, / I've whipped down passions, / I've turned my back on forbidden treasures, / Closed a quivering mind to human pleasures, / I've stifled all desire / Blown out burning passionate fire / With white hot breath / Through trembling lips."
It's almost doubtful as to whether Garland actually wrote these lines for Thoughts and Poems when she was 18, having just starred in the role of a lifetime as Dorothy Gale in The Wizard of Oz. They're oddly prophetic of a tortured life and career that she had not yet lived, where men would take advantage of her practically until the day she died.
Not only did the legendary actress and singer possess another secret talent, she was more refined and cerebral than her patriarchal industry and era ever gave her credit for.