Are you on the lookout for Scribd or Audible alternatives? There's a hot new app that can rival those services. It's innovative, generous, and has great English-language titles. I'm talking about BookBeat, an audiobook and ebook subscription service. In this extensive BookBeat review, we'll explore what it is, how it works, what can you expect, how much it is, its under-the-hood features, what it's good at, where it's lacking, and whether it's perfect for you among other things. After reading this review, you might have an idea whether a BookBeat subscription is worth checking out.
But before that, here's a quick primer: The BookBeat app offers ebooks and audiobooks in different languages, which includes English, Spanish, Italian, and more. I think that it's better than Scribd, though there's a small wrinkle. Just like Storytel, which is an audiobook subscription service that is mainly available in Europe, Asia, and Latin America, BookBeat is not yet officially available in the United States and Canada. But though it's not yet offered in North America, it's impressive English-language catalog makes up for its inaccessibility. This service may be well worth it abroad. For the subscription prices, your mileage may also vary.
Let's explore this app's enticing features in this in-depth BookBeat review.
A Bird's-Eye View
BookBeat is an ebook and audiobook subscription service that is mainly available in Europe, including countries such as Switzerland, Croatia, Italy, Finland, Slovenia, Greece, Hungary, Estonia, Malta, Portugal, Latvia, Luxembourg, Spain, Lithuania, Denmark, Norway, Ireland, France, Poland, Germany, Romania, Czech Republic, Belgium, Austria, Bulgaria, Slovakia, Sweden, Cyprus, Netherlands, and the United Kingdom.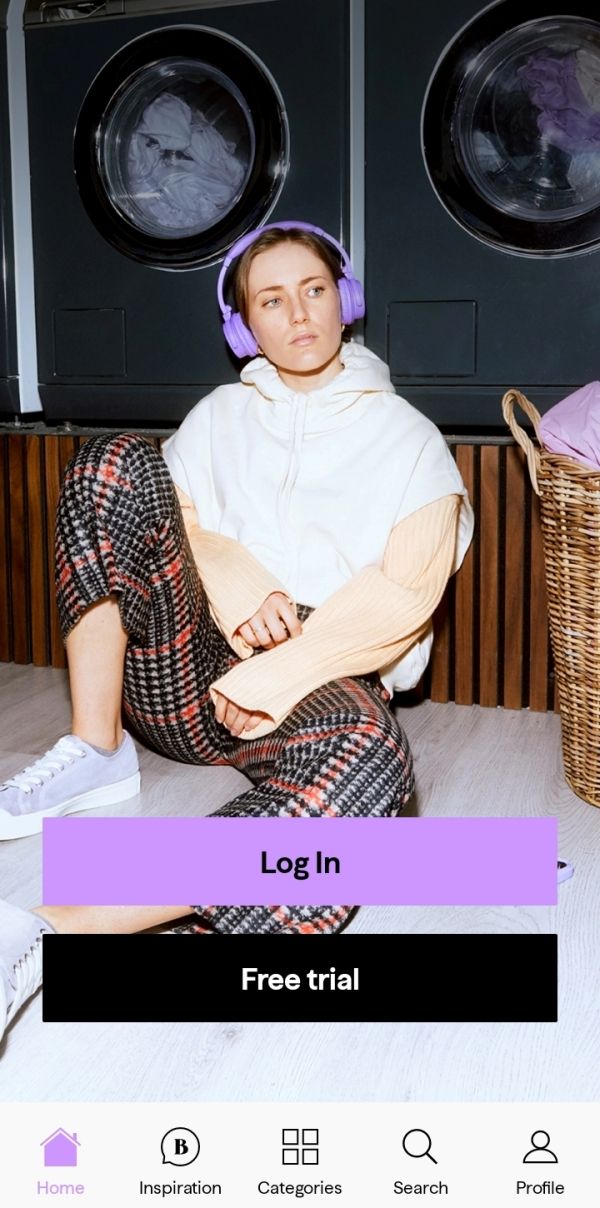 It works just like Scribd and Storytel — you subscribe and are able to stream ebooks and audiobooks. The app has a neat and modern user interface. In the Home tab, you'll find downloaded books, history, and followed titles. In Inspiration, you'll see how the recommendation engine of BookBeat works; this tab features titles that are trending, popular, and reader-favorites. It also includes curated lists. The Categories tab includes languages such as German, Spanish, Italian, Polish, etc. The Profile is where you'll find account settings, reading hours, filters, etc.
Book Deals Newsletter
Sign up for our Book Deals newsletter and get up to 80% off books you actually want to read.
Thank you for signing up! Keep an eye on your inbox.
By signing up you agree to our terms of use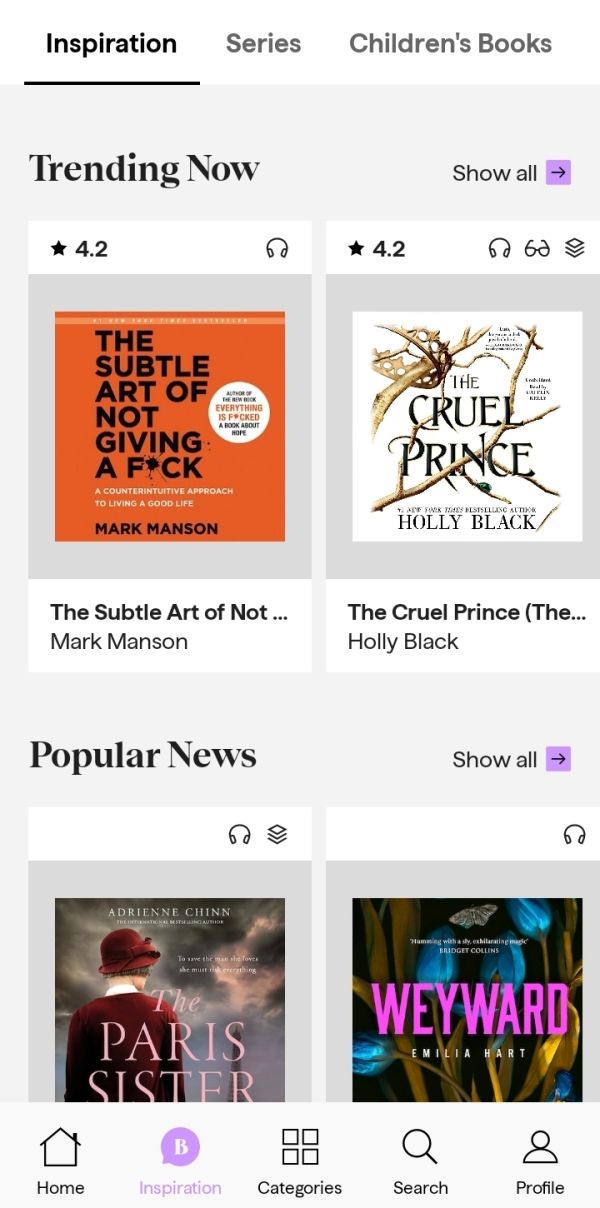 How Much Does BookBeat Cost?
BookBeat offers a free two-week trial, but before taking advantage of that, it somewhat forces you to subscribe. The service has an innovative subscription system that is time-based instead of title-based. The Basic level provides 20 hours of usage for €5.99 per month, a Standard subscription gives you 50 hours for €9.99 per month, and a Premium one offers 100 hours for €14.99 per month. All these subscription levels include access to all books. Meanwhile, you can also choose the family account option, which offers up to five profiles but that there's an additional €4.99 fee per profile per month.
Quality of Catalog
There are currently about 700,000 titles on BookBeat, majority of which are English-language bestsellers and backlists that include popular young adult, nonfiction, fantasy titles, and more. The quality of BookBeat's catalog is similar (or even better) to that of Scribd.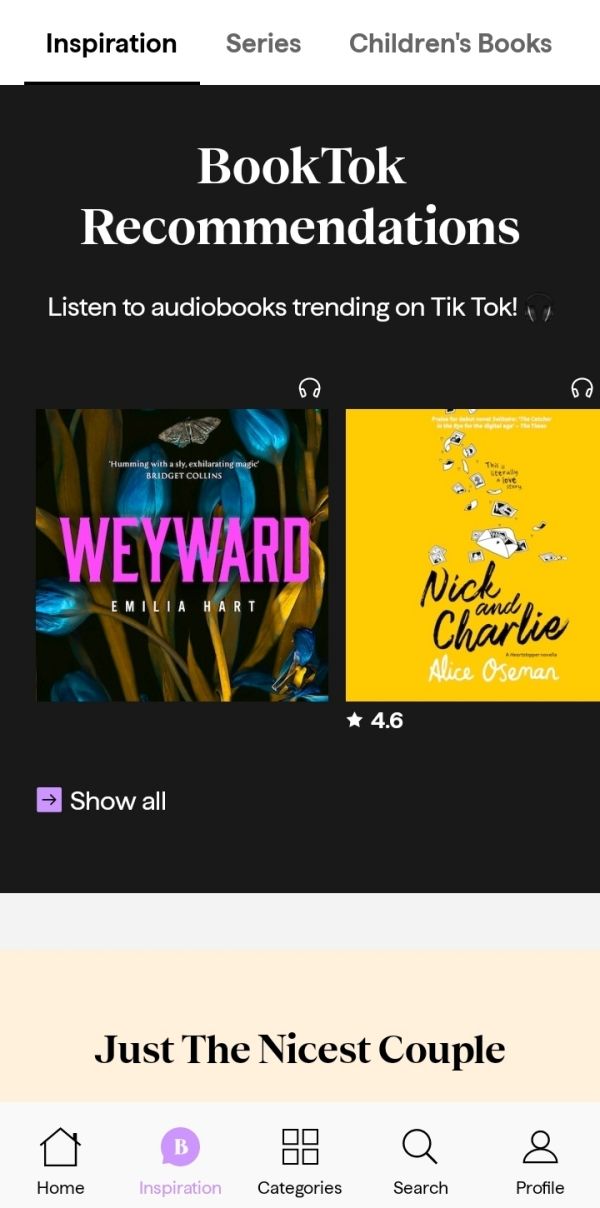 One of the best things in this service is its curated lists around trending titles like Bridgerton, BookTok recommendations, crime fiction, brand-new narration of classics, movie tie-ins, and many more. If you want to catch up with series, there's a Series tab that conveniently compiles similar audiobooks.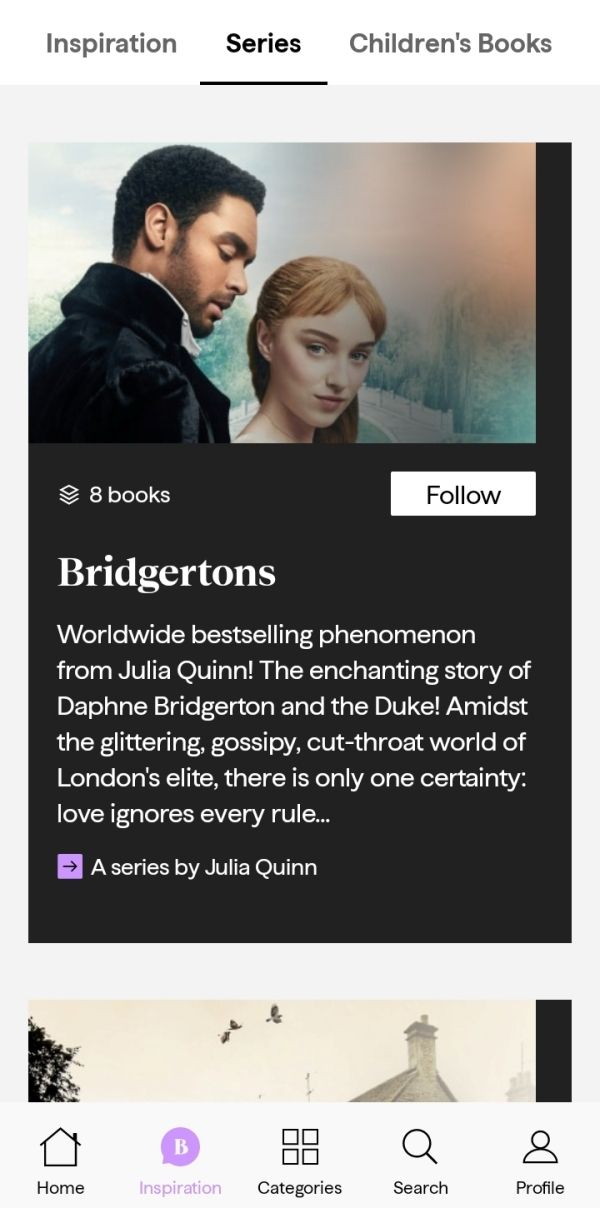 What Does BookBeat offer?
There's nothing uniquely special about BookBeat, really — it's a whole lot similar to other subscription or reading apps out there like Scribd, Audible, or Storytel. But with it, you can follow series and see your reading consumption.
The BookBeat reading app is available on major devices and platforms, as usual.
The Good and the Bad
BookBeat has a wide English-language catalog. The time-based subscription system instead of a title one can also be a great thing; you can choose two great audiobooks of 10 hours or less per month for the basic subscription. There's flexibility in the way you choose titles because you have to fill up a given time instead of cherry picking which to listen to.
The curated lists are noteworthy as well, just like these audiobooks: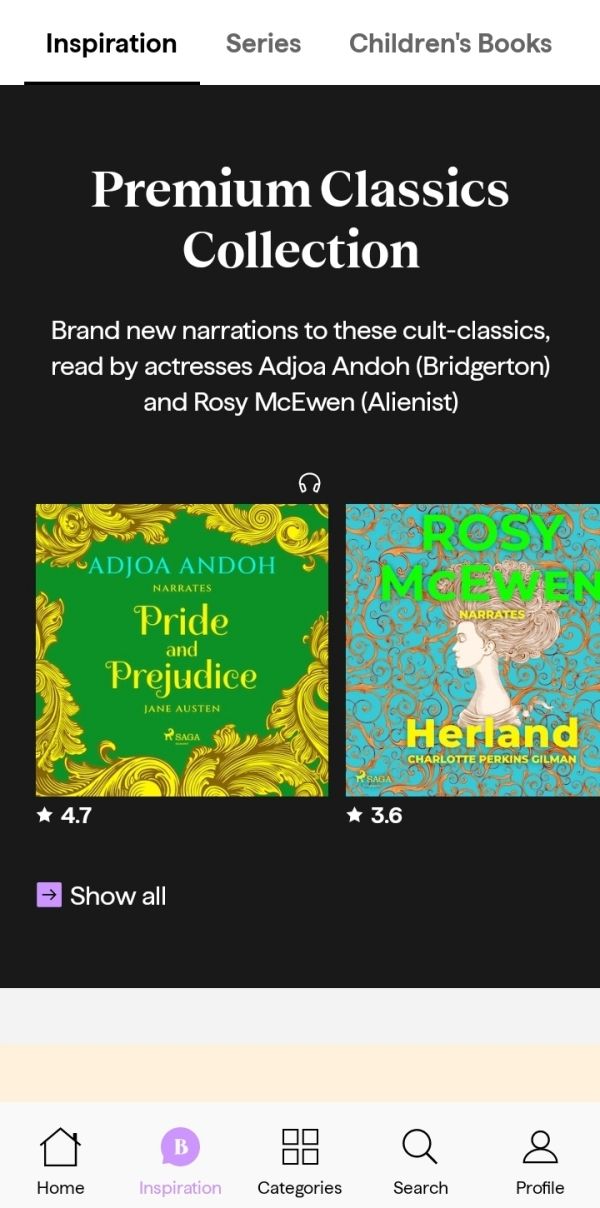 On the flipside, the service might not be functional in the U.S. at all. In addition to that, since some audiobooks run 24 hours or more, a basic subscription won't simply cut it. It's a double-edged sword: you would have to always take into consideration the length of the audiobook before making a subscription, unlike Audible wherein one credit is equivalent to any title regardless of the length and the price.
There's also the problem about geographic restriction. Since BookBeat is available in many countries in Europe, some titles might be geo-locked, barring access to read them.
BookBeat vs. Storytel: Which is the Best?
BookBeat beats Storytel because it has plenty of noteworthy English-language titles.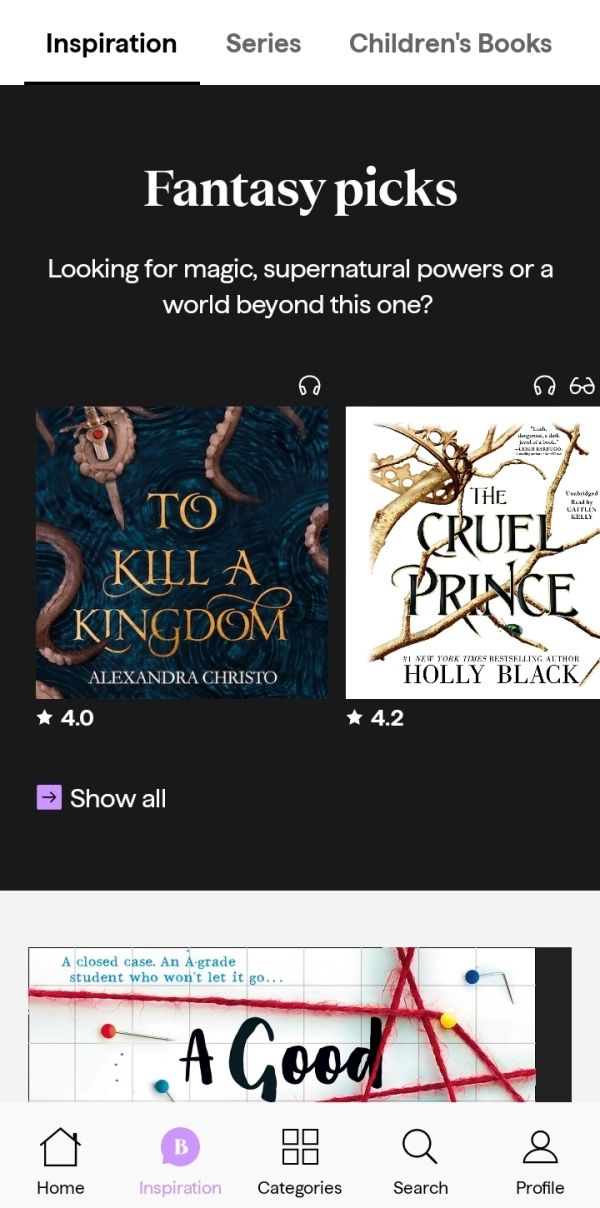 Although these apps are similar in terms of business model, BookBeat is for listeners who consume more English-language content. Storytel has a so-so English-language catalog (its titles are somewhat outdated), but it has plethora of books in other languages. Storytel beats BookBeat in this department because the latter only has few offerings in other languages. Storytel also offers unlimited usage and has local catalogs depending on the country where it is available.
Overall, it really depends on what you want out of your audiobook listening. The choice depends on your audiobook preferences and needs. Still lost? Here's an in-depth review of Storytel.
Is BookBeat Worth Trying?
BookBeat is Europe's Scribd with its plethora of popular titles in English, but I feel it's geared toward UK residents. If it were available in the U.S., I'd recommend having it over Scribd. This app is for anyone who listens to a lot of audiobooks a month but don't care what they are; they let the app choose what they listen to. It's similar to other streaming-based audiobook subscriptions like Scribd that, though they offer "unlimited" listening, the titles available are from an ever-changing selection only.
But if you're looking for something specific, something that comes out today, next week, or next month, then nothing beats Audible.
I hope that this BookBeat review is helpful in making a decision. As prices are on the rise, it's prudent to consider every options. Still want to explore? Check out these best audiobook apps and the best audiobook subscription services like BookBeat!